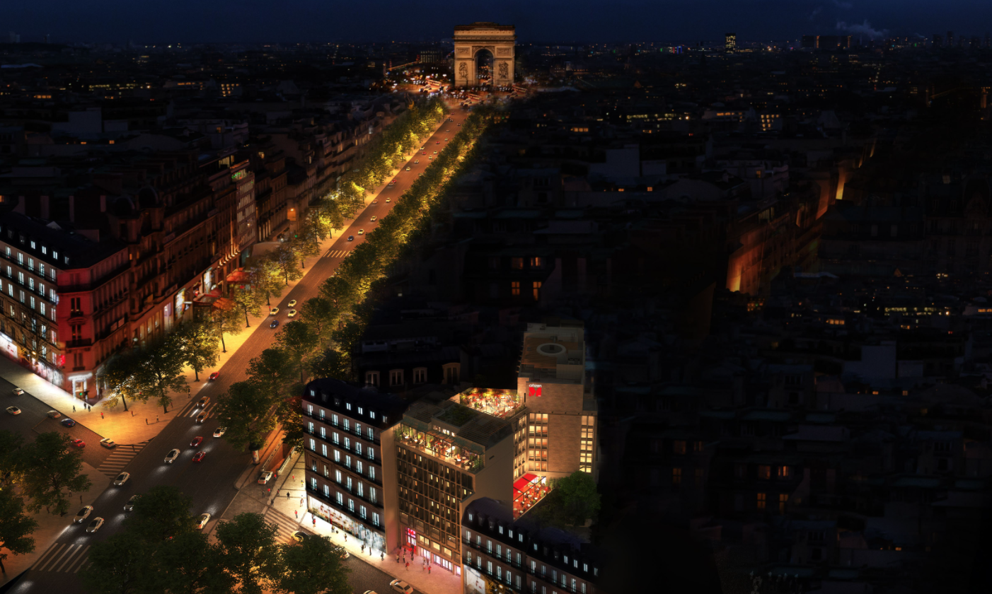 The street of traditional luxury gets a kiss from affordable luxury – a new citizenM hotel
citizenM's fourth Parisian hotel opens on Avenue de Champs-Élysées this September
14 September 2021 – The multi-award winning, Dutch hotel-and-lifestyle brand citizenM is returning to Paris to open its fourth hotel – on one of the world's most famous avenues. From September 2021, citizenM Paris Champs-Élysées joins its three sister hotels in the French capital – making it the first city with a quartet of citizenM hotels. Overall, this is citizenM's 15th hotel in Europe – and 23rd globally – since 2008.
​​
​citizenM Paris Champs-Élysées hotel stays true to the brand's promise of 'affordable luxury for the people' – serving it up, as usual, in a triple-A well-connected location. This one is centered almost precisely between Arc de Triomphe and Place de la Concorde. On the doorstep: luxury shopping and dining on Avenue de Champs-Élysées, two metro stations, Galeries Lafayette, Grand Palais, Petit Palais, countless restaurants and boutiques, and much more. The location is ideal for tourists and business travellers visiting Paris for both short and long stays. ​
​​
​Over approximately two years, the existing 1970s building on Rue la Boétie had been redesigned and converted into a modern 151-room citizenM hotel, with the help of long-time collaborators and architects Concrete Amsterdam. Approximately a quarter of the rooms on the front facade have a view of Rue la Boétie and a slice of Avenue de Champs-Élysées. The rest of the rooms are arranged in a U-shape around a peaceful ground-floor courtyard with greenery and comfortable outdoor seating. ​
​​
​To get to the rooms, guests enter via a designer living room – citizenM's signature space and everyone's favourite hangout – passing a commissioned wall mural by Lucky Left Hand (French artist Steven Burke) on their way. In the living room itself, a spectacular Golden Age wallpaper by Ai Wei Wei will undoubtedly become one of the most photographed art pieces. It is best contemplated from one of the many cosy and colourful Vitra couches and chairs. Other notable art pieces in the living room include 'Tauros' by Sarah Morris, a lightbox by JR (Jean René), photo print by Frank Horvat, and Andy Warhol's 'Flowers', as well as hand-picked pieces by Thomas Raat, Christophe Bucklow, David Salle and Jordan Wolfson, courtesy of the citizenM collection, which belongs to citizenM Executive Chairman Rattan Chadha.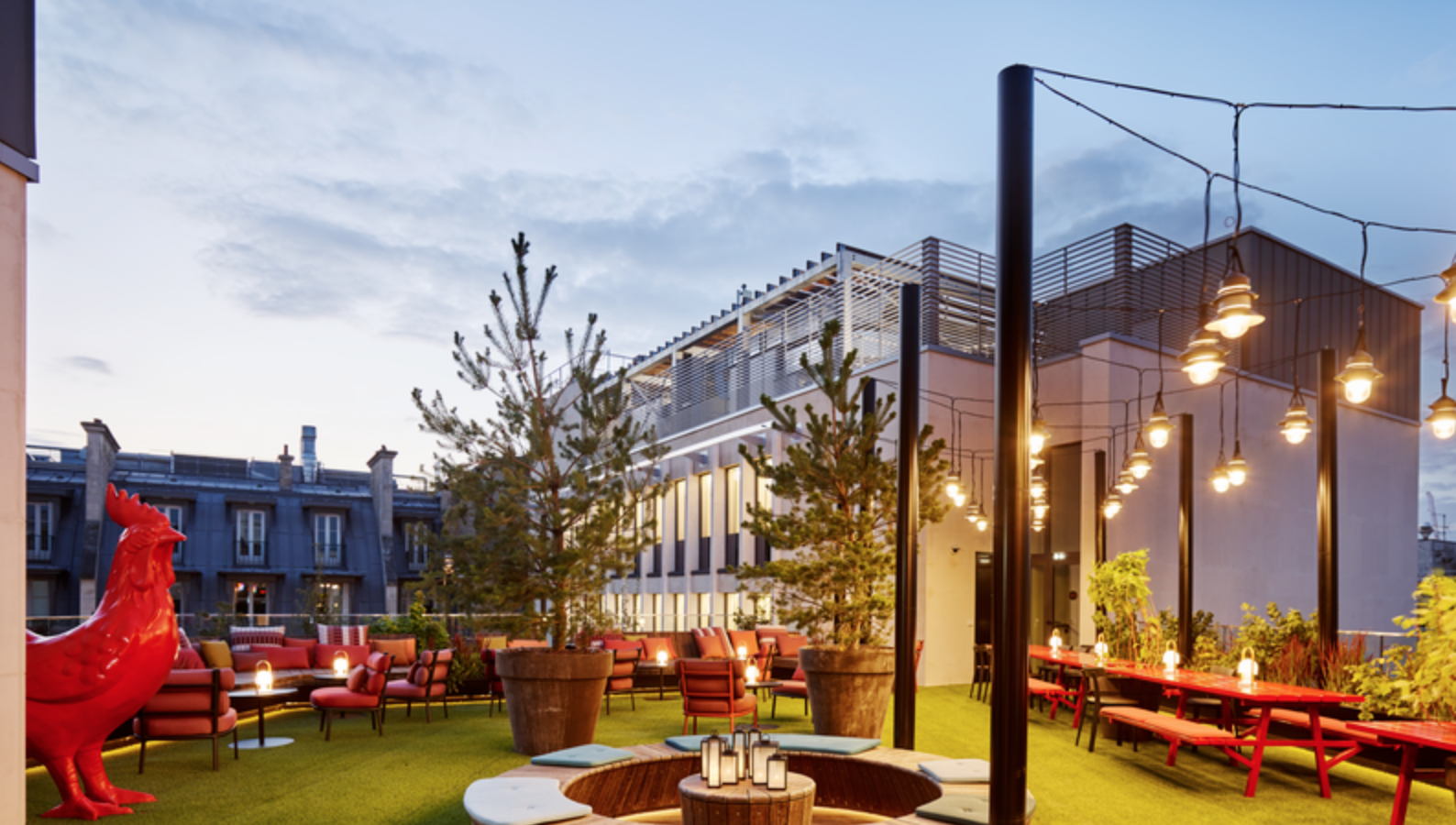 ​For that 'just like home' feeling, the living room has space for working and relaxing, hundreds of books, interesting objects, and a 24/7 kitchen in the centre. Known as canteenM, it serves 24/7 food, drinks and snacks – nearly all locally sourced – hot à la carte meals, craft cocktails and delicious coffee. The indoor canteenM bar/dining area expands onto the aforementioned inner courtyard with Parisian-style furniture. ​
​​
​When creating a new hotel, citizenM likes to include an element of surprise to keep all returning guests delighted. This way, the 'affordable luxury' experience is consistent around the world, but with a unique attraction at every location. citizenM Paris Champs-Élysées is the first-ever hotel with three outdoor spaces – the courtyard on ground level, the canteenM terrace, and an enchanting cloudM rooftop bar with a fresh, casual vibe. This spectacular park-style bar on top of the Champs-Élysées will serve a menu of delicious finger food, snacks, and bottled drinks (a variety of refreshing wine, beer, soda and spritzes). The cloudM bar – featuring views of the Eiffel Tower – will be open to the public, available for private hire, and stylishly furnished by Vitra.
​​
​Upstairs, 151 rooms are designed especially to fit the existing building – and for ultimate relaxation. The most important things – the XL king-size bed, jungle-like shower, and entertainment – are all optimised for comfort, luxury and ease of use. Superfast Wi-Fi is always free, and the entire room ambiance (from lights and blinds to the temperature and TV) is controlled by the free citizenM app, or the MoodPad tablet. Aside from a multitude of TV and music channels, the TV is preloaded with citizenM's exclusive Brainwaves moods – music-and-light compositions, scientifically proven to alleviate the common stresses of travel: anxiety, sleeplessness and lack of focus.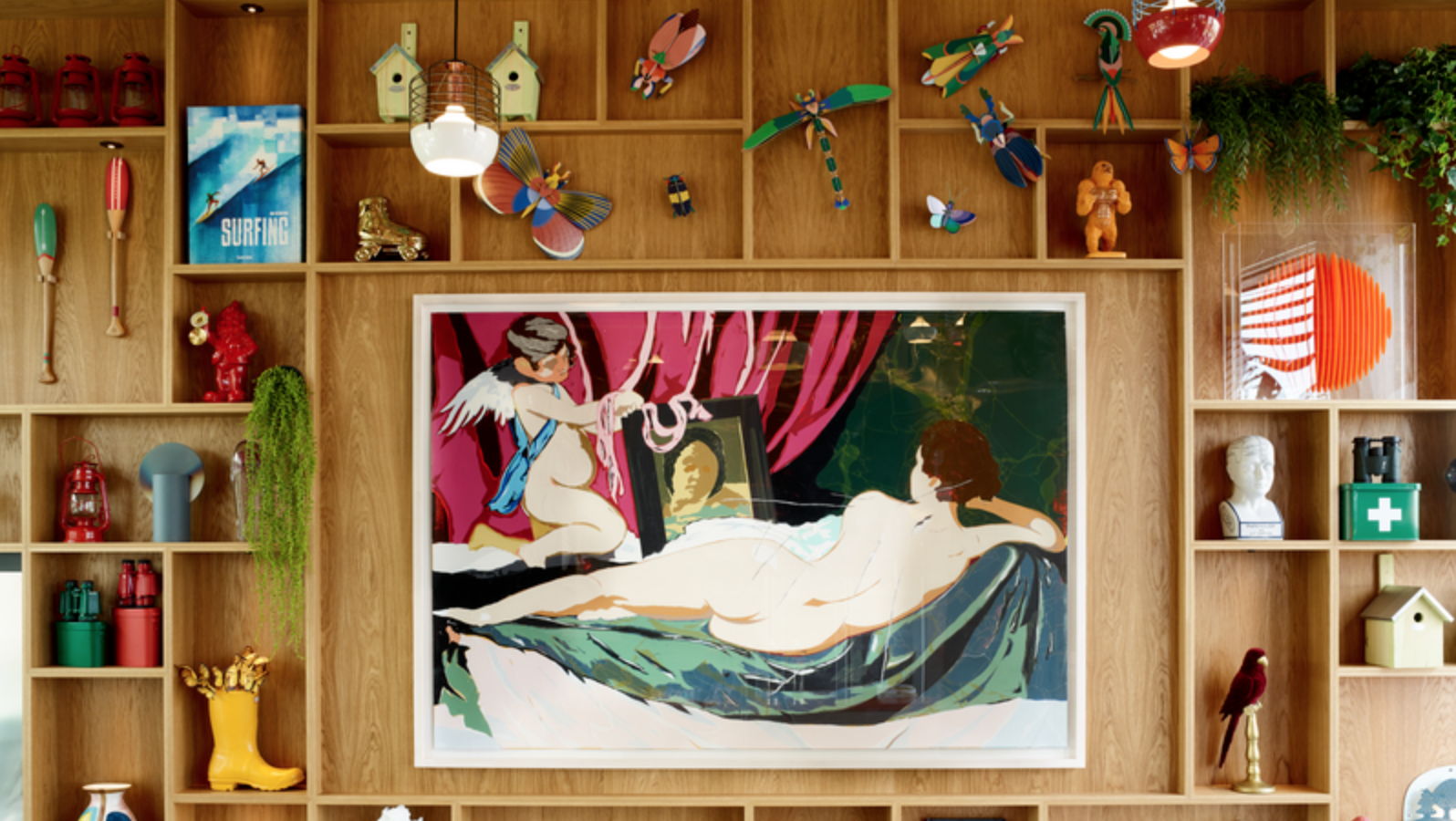 For room art, citizenM hand-picked three French female artists – Marie Guillard, Elvire Caillon and Melodie Bachet – in collaboration with Starter, a creative agency run by Parisiennes Aurelie Dablanc and Anne-Marine Guiberteau. In every city it calls home, citizenM seeks out local artists to collaborate with and highlight their talent. ​
​​
​For the final touch to the true citizenM experience, the hotel ambassadors make the whole world feel at home. Every one of them is empowered to do what's right for the guests, and prepared to take on any role – barista, concierge, housekeeping or receptionist. At citizenM, guests who need attention are never sent to 'speak to someone else', but instead receive genuine warmth and attention – deservedly noted in the many positive online reviews. ​
​​
​citizenM Paris Champs-Élysées hotel is open for bookings from September 2021. Together with the existing three locations – at Gare de Lyon, La Défense and Charles de Gaulle Airport – the quartet of Parisian citizenM hotels fulfills the needs of every visitor seeking affordable luxury in the City of Light. ​
​​
​Rates at citizenM Paris Champs-Élysées start from €129.
---
about citizenM
​citizenM launched in 2008 with a purpose – to disrupt the traditional, stale hotel industry. Rattan Chadha – the founder of the global fashion brand Mexx – was inspired by his employees to create a hotel for today's frequent travellers, giving them everything they need and nothing they don't. This means central locations in the world's most exciting cities, but at an affordable price. Not just a place to sleep, but somewhere to work, relax and play – just like home. Somewhere with superfast free Wi-Fi, tech that makes life easy, and world-class art that isn't 'hotel art'. A room with an ultra-comfortable XL bed to crash in, and a powerful rain shower to wake-up in. Rattan Chadha called this 'affordable luxury for the people'.
​​
​The first citizenM opened at Amsterdam's Schiphol Airport in 2008. In 2021, citizenM's portfolio has 25 hotels in 16 exciting cities: London, Glasgow, Amsterdam, Rotterdam, Paris, Copenhagen, Zurich, Geneva, New York, Boston, Washington DC, Miami, Seattle, Los Angeles, Taipei and Kuala Lumpur. ​
​​
​In summer 2020, citizenM launched an app that's much more than a room reservation tool. The app enables fully contactless stays (checking in, opening doors, adjusting room ambiance, paying for purchases – all via the guest's own smartphone), and adds dozens of local perks (like discounts on bike rentals and food), tailored experiences, city guides and collectable badges. The app and contactless journey are the first of its kind in the world, and already won the coveted Skift 2020 IDEA Award in the 'contactless solution' category. The app is a natural continuation of citizenM's tech-forward approach – the brand has always had one-minute self-check-in kiosks (instead of traditional reception desks), iPad room controls (in addition to wall switches), and superfast free Wi-Fi (everywhere) – as part of its unique guest experience. ​
​​
​citizenM intends to keep growing as a fully integrated owner-operator in selected gateway cities around the world. Its unique value proposition, delivering a high profitability per square metre, allows the brand to develop hotels on prime locations in cities with the highest barriers to entry. citizenM can acquire development sites and turnkey delivered hotels and is open to joint ventures on individual projects. citizenM considers new-build developments, office conversions, components of mixed-use schemes or conversions of existing hotels. The company will also selectively consider asset-light transactions.
​​
​Website: http://citizenM.com
​@citizenM
​​
​Press contact: ​
​[email protected]
---
hotel factsheet
​Address: 128 Rue la Boétie, 75008 Paris, France
​​
​hotel features
151 rooms
conversion of a 1970s office building
furnished ground-floor outdoor courtyard
a living room with books, art, designer furniture, and designated working areas
picnic-style cloudM rooftop bars facing the courtyard – open to the public and available for private hire
canteenM – dining area with 24/7 food and drinks and a furnished outdoor terrace facing Avenue de Champs-Élysées
one-minute self check-in and check-out
superfast unlimited free Wi-Fi
room features & amenities
XL king-size bed
powerful rain shower
luxury bedding and towels
full-size AM/PM shower gels/shampoos
MoodPad and app-controlled room lights, temperature, TV, blinds
HD TV with streaming capabilities
---
FOR PRESS RELEASE ENQUIRIES PLEASE CONTACT:
​[email protected]