citizenM: The Aesthete's Guide to Affordable Travel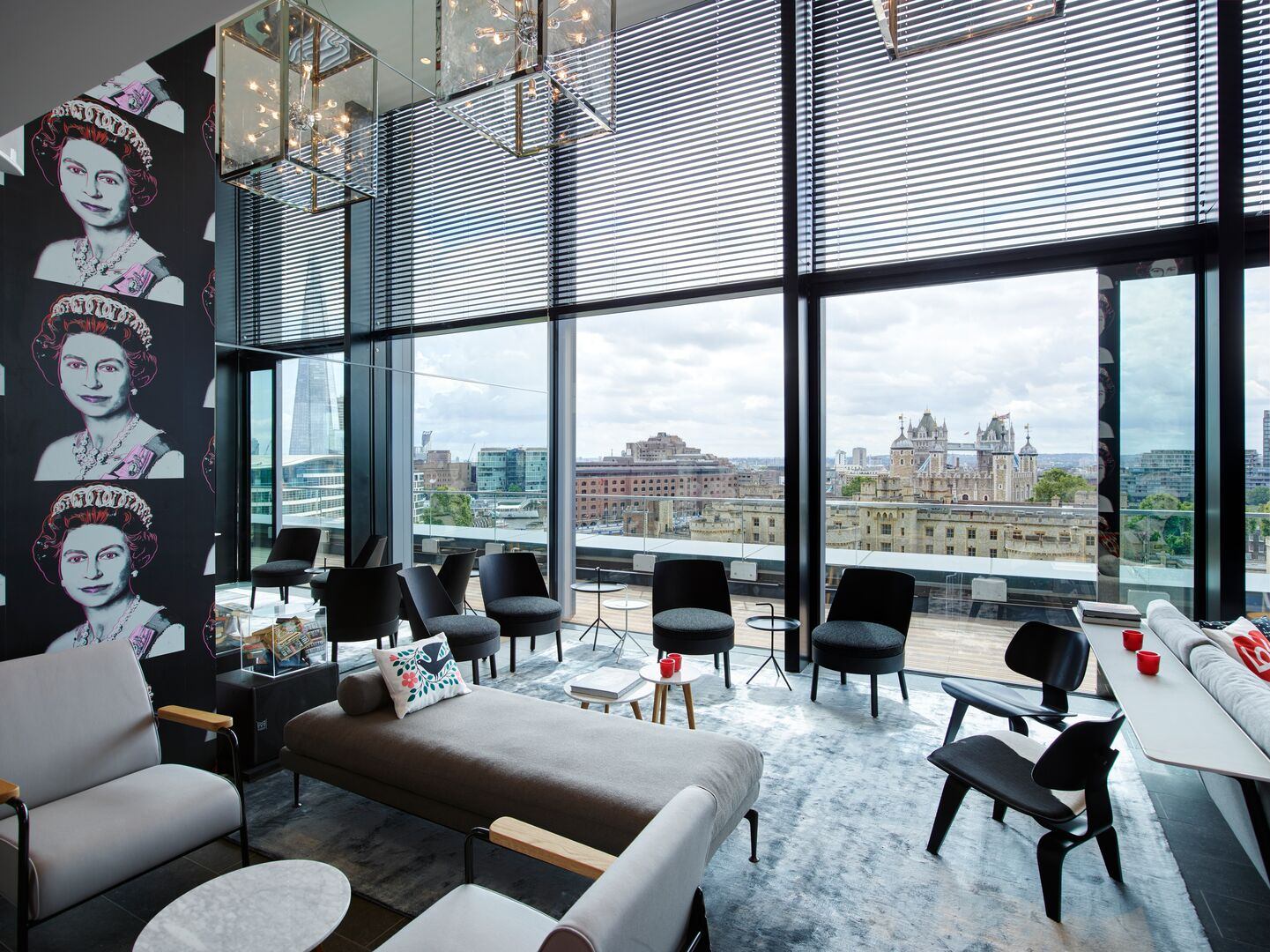 In the past year, online searches for "cheap city breaks in Europe" increased 170%. With summer on the way, and some of Europe's most exciting exhibitions opening, those with an aesthetic bent are making plans to travel to Europe's most popular cities for a cultural and artistic break. With hotels located all over Europe, citizenM can offer affordable luxury and access to both established and new art experiences. 
citizenM provides an artful stay at affordable prices starting as low as €149 in these cultural hubs, allowing guests to enjoy an all-around visually aesthetic travel experience and surround themselves with thought-provoking works in destinations such as Paris, London, and Amsterdam. 
The brand has focused on both artist collaborations and affordability since its opening in 2008, featuring both commissioned and existing works throughout the guest rooms, the lobby styled living rooms, and exterior hotel facade installations. 
citizenM aims to create living rooms beyond any art lover's wildest dreams. In every one of the brand's 31 hotels (and growing) there is a mix of art you recognise alongside pieces from up-and-coming artists – the kind that stops you in your tracks. Guests can enjoy a complimentary art experience within the hotels and explore some of the most talked about exhibitions and artists in Europe's cultural hubs - from Picasso to Hockney.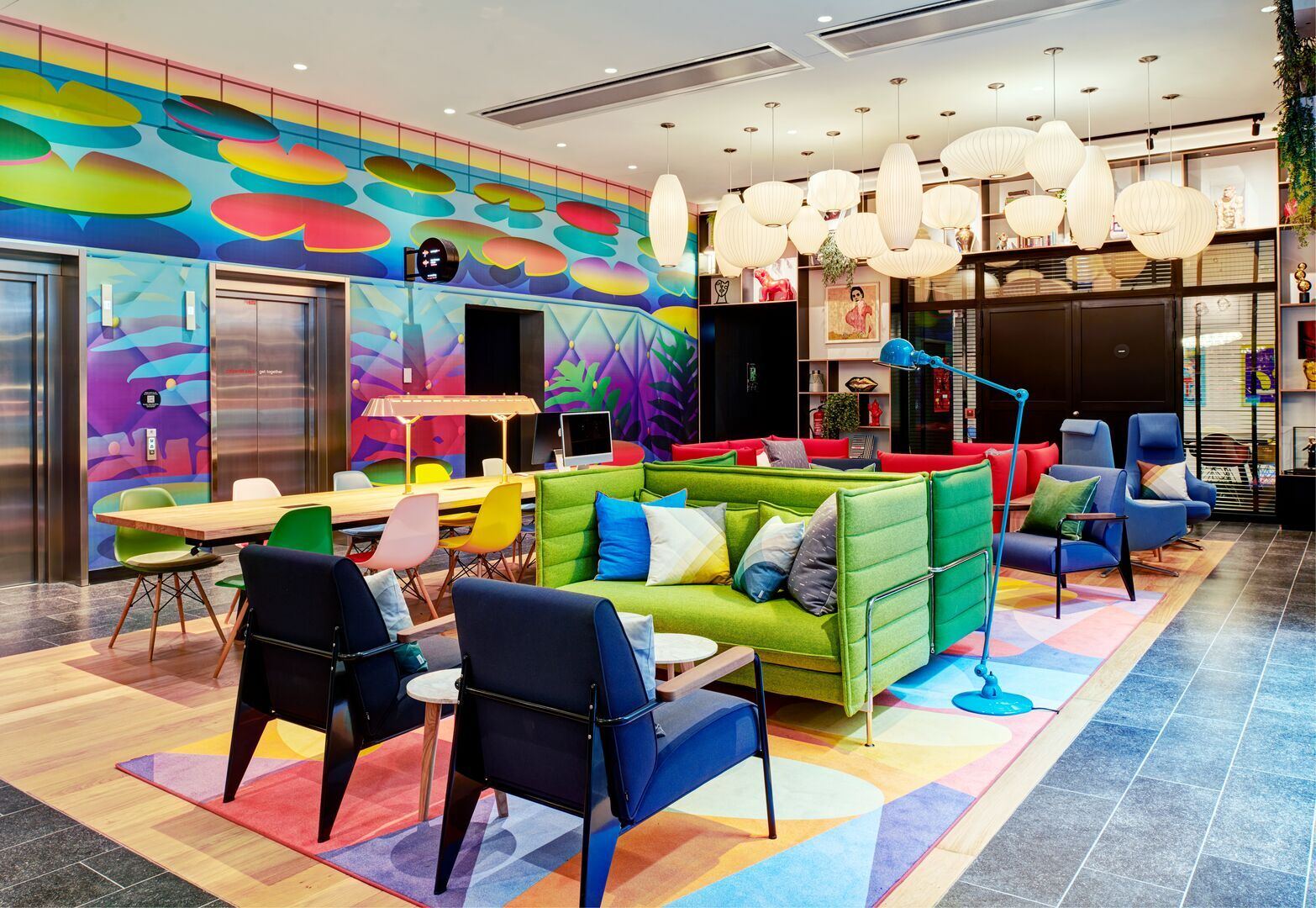 citizenM Paris Opera 
citizenM Paris Opera is the brand's newest opening and its fifth hotel in Paris. Located on the historic Rue du Croissant, rooms start from as low as €149.00. The hotel's art collection notably features a range of works by ​ local and international artists, including a large-scale piece by Montmartre-based artist Amélie Bertrand, who recently collaborated with Louis Vuitton. 
Guests can even catch a deal on the transport there. From London, travellers can make their way to the city by train on the Eurostar with one-way tickets as low as £39. Once in Paris, after enjoying the vibrant hotel works, guests can visit a number of Parisian galleries and museums to get their art fix. 
Fashion designer Paul Smith's artistic direction for the Picasso Museum's exhibition commemorating 50 years since the artist's death is one not to miss, with general entry starting at €14 and discounted fees available for families. The display is open until the 27th of August and is just a short tube or bike ride from citizenM Paris Opera. 
Additional shows of note include the Foundation of Louis Vuitton's Basquiat x Warhol exhibition open until the 28th of August and Musée d'Orsay's Manet / Degas exhibition open until the 23rd of July. Free exhibitions can be taken advantage of at the artist collective 59 Rivoli or Atelier Brancusi, Constantin Brancusi's reassembled studio.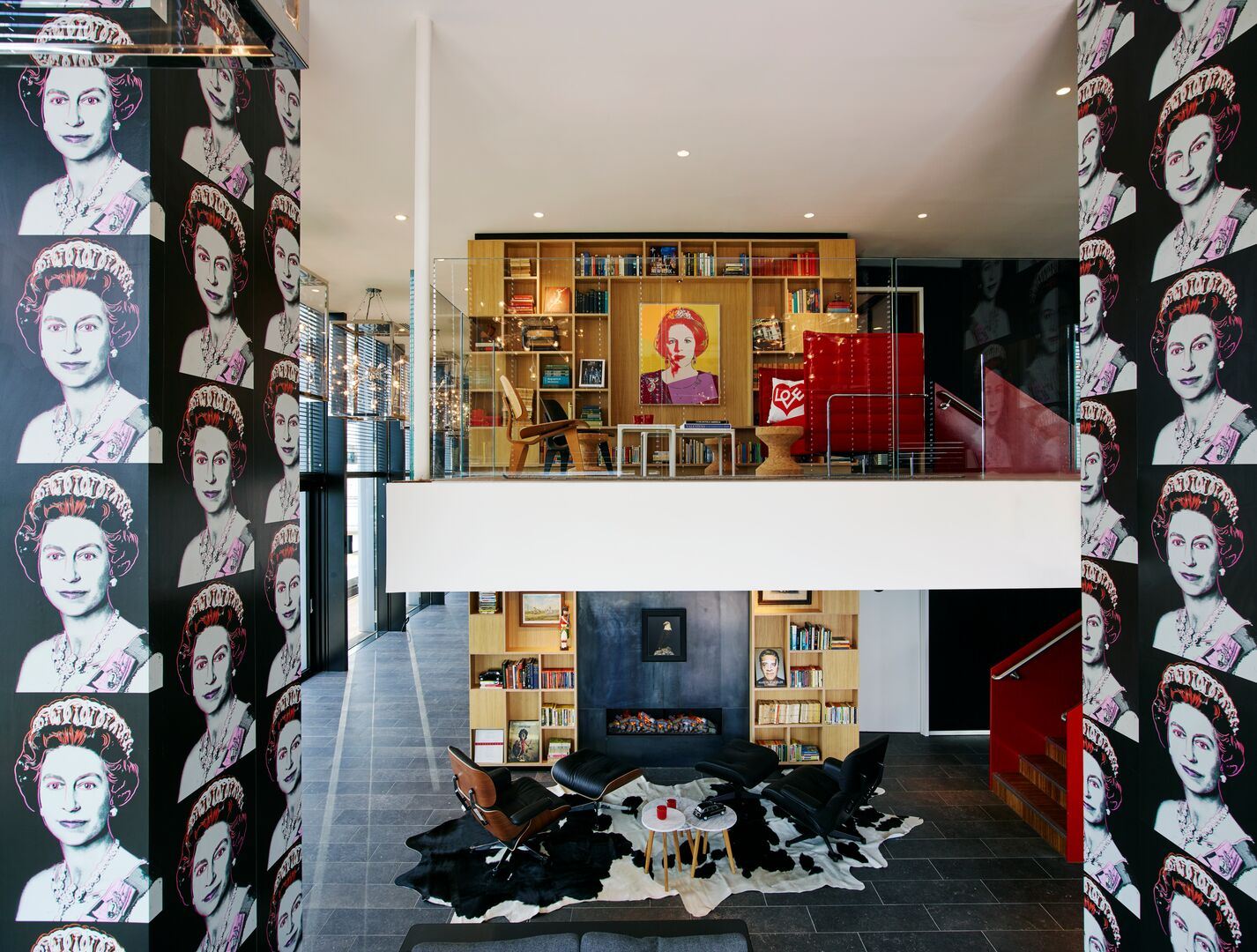 citizenM Tower of London 
citizenM Tower of London is centrally located and well-connected to the city's most exciting sights, museums and galleries and has rooms starting from £149.00. The brand commissioned some spectacular art for the location, in addition to showcasing some favourite pieces from its own collection including a Warhol print of Queen Elizabeth II. Original works by highly influential British artists enrich the property, with a digital interactive work by Dominic Harris, a commissioned wall piece by Peter Lamb and a work from Julian Opie that wraps around the outside of the hotel. The star turn though is a dramatic kinetic light installation from Dutch design duo Studio Drift, with material covered lamps which continually float up and down past the eight floors of the hotel, creating a magical and mesmerizing experience for guests.
Beyond the walls of the hotel, travellers can experience the permanent gallery spaces of London's most notable art museum's for free, including the National Gallery, Tate Britain, and Tate Modern. Visitors can also enjoy the special exhibitions throughout the city such as Hilma af Klint and Piet Mondrian at the Tate Modern until 03 September, with a fee of £20 and Portraits of Dogs: From Gainsborough to Hockney at The Wallace Collection until 15 October, with a fee of £14. June sees the much anticipated re-opening of the National Portrait Gallery after a three year refurbishment.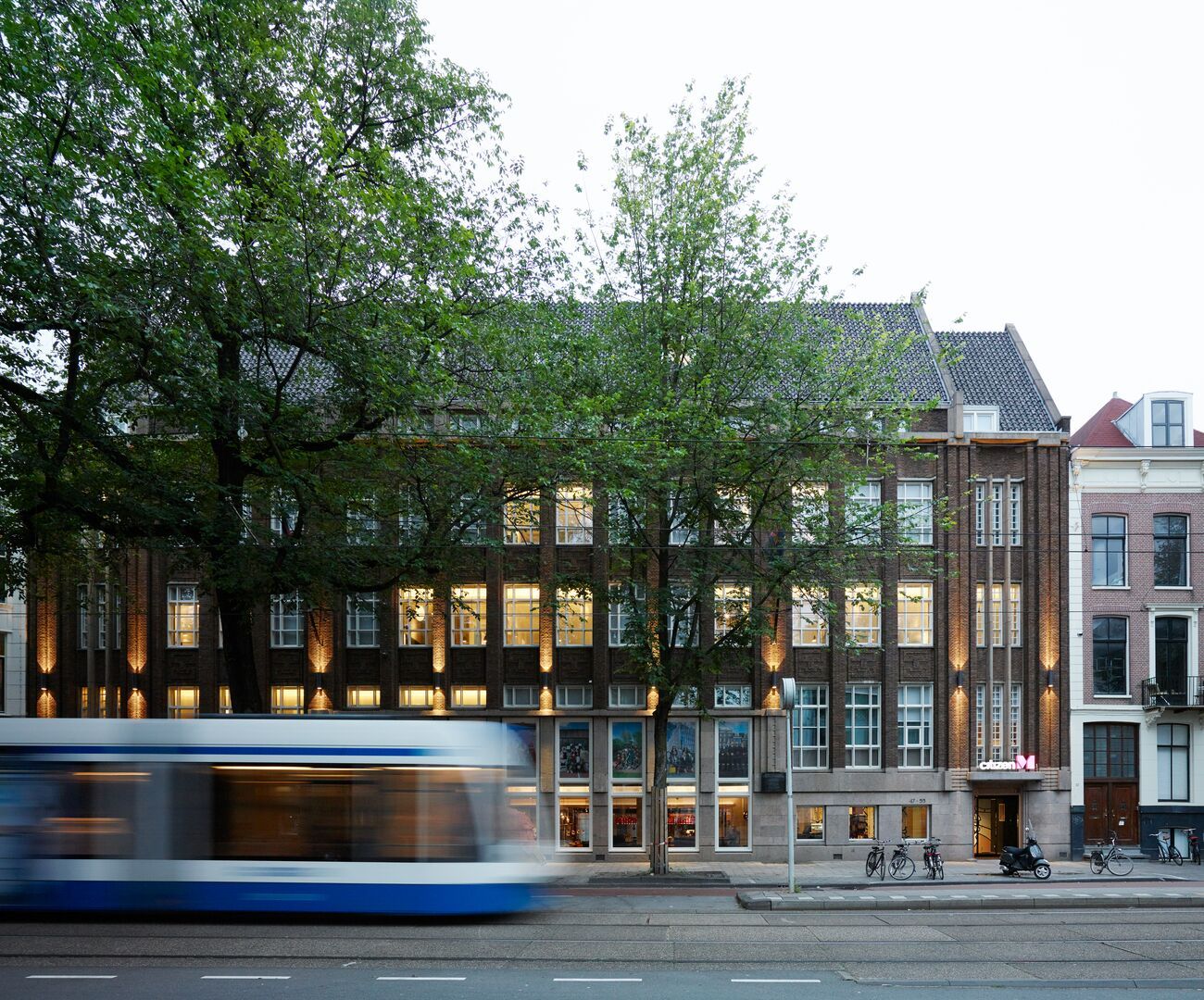 citizenM Amstel Amsterdam 
Located in Amsterdam's historic canal district and with rates starting at €159.00, citizenM Amstel Amsterdam is the place to stay for guests looking for architectural beauty and art-filled spaces at an affordable price. 
The hotel is a conversion of an existing structure dating back to 1928, built in the Amsterdam School style of architecture. The decorative red brick exterior with its multitude of elegantly slender windows stands out among the neighbouring buildings on Sarphatistraat.
At street level, guests are greeted by a bespoke art installation across the eight main windows. The artistic photographer duo – and the hotel's previous Schiphol collaborators – Freudenthal Verhagen have created a series of water-themed pieces inspired by Amsterdam's centuries-long reliance on rivers and canals. The installation proves the perfect backdrop for art-intrigued visitors looking for a notable photo-op in the neighbourhood.
The hotel is walking distance to the Hermitage Museum, which is featuring an exciting exhibition titled Rembrandt & His Contemporaries until the 27th of August 2023, with general admission fees starting at € 22.50. Lovers of contemporary photography should pay a visit to FOAM, a long term collaborator of citizenM which is hosting an exhibition, House of Bondage, until 14 June showcasing the work of South African photographer Ernest Cole. Guests can also see a range of free exhibitions and activities in Amsterdam, such as immersing into the history of the diamond industry with a tour of GASSAN Diamond Factory, an official dealer of Rolex watches. To top things off, art-lovers can add a trip to Melkweg Expo to their tour of the city, an exhibition showroom that displays contemporary photography and promotes up-and-coming artists, which is free and open to the public. 
END 
For media enquiries please contact Camron: 
About citizenM
​​citizenM was launched in 2008 with a purpose – to disrupt the traditional, stale hotel industry. Rattan Chadha – the founder of the global fashion brand Mexx – was inspired by his employees to create a hotel for today's frequent travellers, giving them everything they need and nothing they don't. This means central locations in the world's most exciting cities, but at an affordable price. Not just a place to sleep, but somewhere to work, relax and play – just like home. Somewhere with superfast free Wi-Fi, tech that makes life easy, and world-class art that isn't 'hotel art'. A room with an ultra-comfortable XL bed to crash in, and a powerful rain shower to wake-up in. Rattan Chadha called this 'affordable luxury for the people'. 
The first citizenM opened at Amsterdam's Schiphol Airport in 2008. As of March 2023, citizenM's portfolio has 31 hotels in 18 exciting cities: London, Glasgow, Amsterdam, Rotterdam, Paris, Copenhagen, Zurich, Geneva, New York, Los Angeles, Miami, Boston, Seattle, San Francisco, Washington DC, Chicago, Taipei, and Kuala Lumpur.