citizenM reveals its first ever property in Dublin, alongside the launch of the brand's search for a local 'Culture Scout'
The brand continues its expansion plans across Europe with its debut property in Ireland, opening in 2024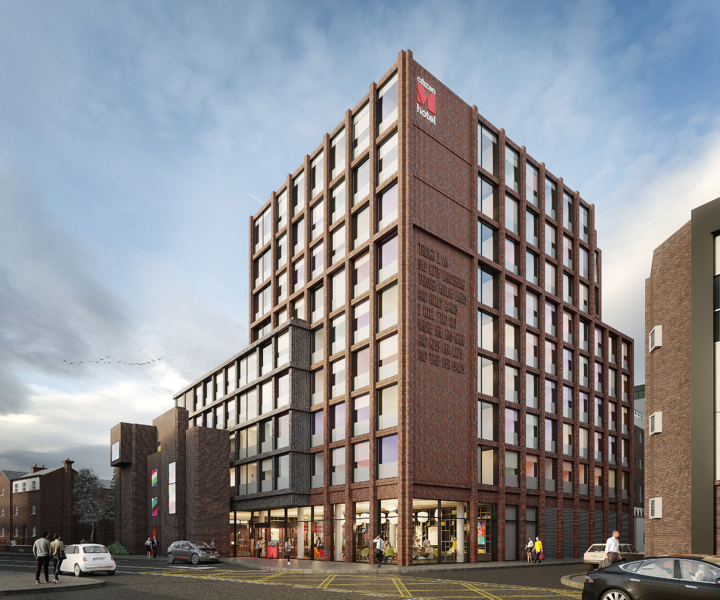 11 April 2022: citizenM has finalised the acquisition of a property in central Dublin where they will build the citizenM Dublin St Patrick's hotel, opening in 2024. Both the construction and operation of the new property will mark a multi-faceted investment in the local Dublin community. The hotel will offer locals and guests alike spaces to work, relax and socialise through facilities like its bar and restaurant, as well as events and programming that showcase homegrown talent.
​​
​
True to its heritage, citizenM will also focus on the promotion of local art and culture in Dublin. Every citizenM hotel opening includes a collaboration with a local artist; to date the brand has commissioned over 120 pieces of art (exterior, interior & in-room) and incorporated over 275 exhibited artworks globally. This property will be no exception and will feature an art installation on the main facade, which will be announced in due course. ​
​​
​
Alongside championing local artists, citizenM strives to become part of the fabric of the city and believes that this can't be achieved without the unique insights of locals who love the cities they live in. This understanding has led to the introduction of a new 'Culture Scout' programme, which will help shape the stories around the new hotels and share them with the world.
​​
​
April 1 marked the launch of citizenM's search for a Culture Scout in Dublin after successfully rolling out the initiative in Austin and Rome earlier this year. citizenM is looking for people who love to go off the beaten path to find local gems; a resident of Dublin who knows the best bars, cafes and restaurants; with great insider knowledge of the art and cultural scene; a storyteller and natural networker who loves to travel and connects with citizenM's ethos and values.
​​
​
Applications are open through a dedicated page and will run between Friday 1st April and Sunday 15th May. The chosen Culture Scout will receive €3,000 and free citizenM accommodation around the world.
​​
​
With the help of the Culture Scout, citizenM will be able to create a space that feels authentic to the host city's present day vibrant character. Meanwhile, citizenM will preserve the history of the current Brutalist landmark facade of the building designed by renowned Irish architect Sam Stephenson, along with his studio on site. The space between the facade and the hotel will serve as a permanent art collection for Dubliners and hotel guests to enjoy. In addition, the building will be sensitively constructed: the citizenM characteristic prefabricated modular construction will be combined with an extensive use of bricks in a nod to the local architecture of Dublin 8 in the Liberties and nearby Iveagh Trust tenements. Once complete, citizenM Dublin St. Patrick's will be Ireland's first fully modular-built commercial building.
​​
​
The hotel will be delivered by BCP Capital, which has achieved planning permission for a 245-room hotel at 69 Bride Street opposite St Patrick's Park and cathedral, which has 700,000 visitors annually. Construction will commence in August 2022.
​​
​
citizenM's hybrid hotels offer travellers luxury accommodation at affordable prices in prime urban centres. Guests will be able to enjoy the same creative technology that has marked citizenM as an innovative force in hospitality, powered by the brand's industry-leading, award-winning app. Offering a minimal-fuss contactless experience, guests can check in remotely, and then use their phone to open their room, order food and beverages, control the in-room experience, then check out when they've finished their stay.
​​
​
Klaas Van Lookeren Campagne, CEO of citizenM, says: "Dublin has been high on our list of target cities for some time, and we are thrilled to have secured this location as our first entry into the Irish market. While the past year has been a challenge for the whole industry, we are confident and continue with our ambitious growth strategy both in Europe and the US, which includes actively seeking additional locations in Dublin. We believe our affordable luxury concept is a great fit for the city, appealing to both visitors and locals alike, and look forward to connecting with this vibrant community."
​​
​
Ends.
Notes to Editors
​​
​
Press contact
​[email protected]
​​
​
About citizenM
​citizenM was launched in 2008 with a purpose – to disrupt the traditional, stale hotel industry. Rattan Chadha – the founder of the global fashion brand Mexx – was inspired by his employees to create a hotel for today's frequent travellers, giving them everything they need and nothing they don't. This means central locations in the world's most exciting cities, but at an affordable price. Not just a place to sleep, but somewhere to work, relax and play – just like home. Somewhere with superfast free Wi-Fi, tech that makes life easy, and world-class art that isn't 'hotel art'. A room with an ultra-comfortable XL bed to crash in, and a powerful rain shower to wake-up in. Rattan Chadha called this 'affordable luxury for the people'.
​​
​
The first citizenM opened at Amsterdam's Schiphol Airport in 2008. In April 2022, citizenM's portfolio has 24 hotels in 16 exciting cities: London, Glasgow, Amsterdam, Rotterdam, Paris, Copenhagen, Zurich, Geneva, New York, Boston, Los Angeles, San Francisco, Seattle, Washington DC, Taipei and Kuala Lumpur.
​​
​
citizenM intends to keep growing as a fully integrated owner-operator in selected gateway cities around the world. Its unique value proposition, delivering a high profitability per square metre, allows the brand to develop hotels in prime locations in cities with the highest barriers to entry. citizenM can acquire development sites and turnkey delivered hotels and is open to joint ventures on individual projects. citizenM considers new-build developments, office conversions, components of mixed-use schemes or conversions of existing hotels. The company will also selectively consider asset light transactions.
​​
​
In Europe the key target cities for new sites are London, Paris, Milan, Rome, Dublin, Munich, Hamburg, Amsterdam, Stockholm, Copenhagen, Zurich, Geneva, Barcelona and Madrid.
​​
​
www.citizenM.com ​
​@citizenM
Key Facts
245-room modular hotel
3 societyM meeting rooms 
open (uncovered) terrace 
living room open to the public, with books, art, designer furniture, and designated workspaces
collectionM – a retail space with an unconventional assortment of travel essentials, souvenirs, gifts and books, curated for the modern traveller
canteenM – an open-plan dining area with 24/7 grab-and-go food and drinks
one-minute self check-in and check-out (or contactless via the citizenM app)
superfast free unlimited Wi-Fi
guest rooms will include citizenM's famous XL king-size beds, powerful rain showers and large flat screen TVs
About the Culture Scout Programme 
Requirements:
Have lived in the city for over 5 years, have seen the city grow and change, 
Knows and understands different neighbourhoods – including citizenM's
Can tell exciting, detailed stories of the city's nooks, secrets, hacks and quirks
Understands the city's wider communities, cultures and traditions; is involved in conversations about diversity and inclusion
Knows the local art scene; is tuned into the global art scene – interested in art in all its forms
Loves to go off the beaten path to find the true local gems – like small businesses, doing-good projects, cultural spots.
Foodie: Always on the front scene, first in line to the new food truck
Conscious traveller: Knows the impact of travel, moves respectfully through communities they visit, makes informed eco-friendly travel choices
Communication: Can advise on communicating with the locals, knows how the city portrays itself to visitors
Connected: Natural networker with strong online/offline connections in the city; easy to contact and connect with
Young at heart: Unpretentiously critical with a taste-level in line with citizenM
Knows the city not from behind a screen, but by moving through it by foot, bike, metro, horse
​​
​www.citizenm.com/culturescout