citizenM Presents Works from The Glasgow School of Art MFA Show Opening on October 20, 2022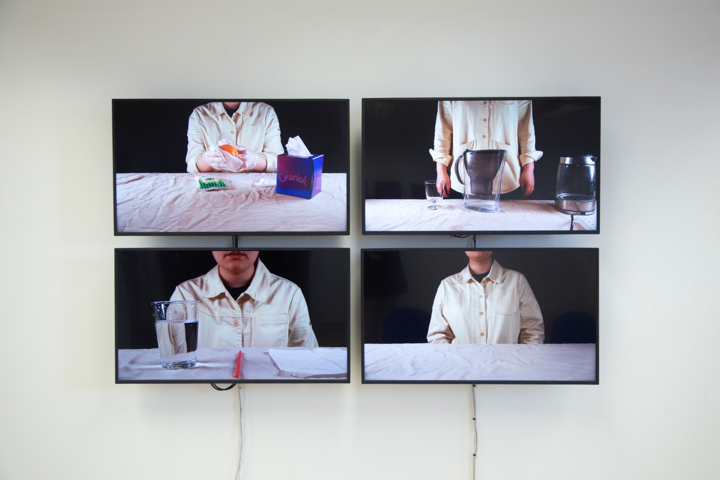 Glasgow, October 2022: Thursday, October 20 marks the opening of an exhibition at citizenM Glasgow featuring works from The Glasgow School of Art MFA Show. The exhibition will display digital video works from four MFA students: Joy Baek, Wei Zhou, Xin Huang, and Lyoto Ross. It is the 9th year citizenM has displayed work from the Glasgow School of Art MFA Show, adding to the longstanding partnership between citizenM and the Glasgow School of Art MFA programme.
Since it opened in 2008, citizenM Glasgow has earned itself a place as one of Glasgow's most popular hotels, thanks to its distinctive offer of contemporary design, modern art and digital innovation alongside comfortable bedrooms, great service and stylish living rooms. The hotel and lifestyle brand has always placed great importance in supporting and commissioning locally-based artists. Every citizenM hotel includes a collaboration with a local artist; to date the brand has commissioned over 120 pieces of art (exterior, interior & in-room) and incorporated over 275 exhibited artworks globally.
Four works from the MFA show will be featured, including video and installation pieces by international students addressing a variety of topics such as socio-cultural issues in Korean society; senses and eroticism; trauma, personal and collective memory, death, and unconsciousness; ​ and discourses on subjectivity and vulnerability. 
The reputation of the Glasgow School of Art and its standing in the art scene is renowned. MFA students are drawn from all corners of the world, and the international dimension of the programme is seen as one of its particular strengths. The premise for the Glasgow School of Art MFA Show mirrors the ethos of citizenM hotels: working at the cutting edge of new visual art practice, commissioning work from the best contemporary artists, and celebrating travel, citizenship, mobility and technology. ​ 
Henry Rogers, MFA Programme Leader, stated: 
"We are delighted that four of our international MFA students - Joy Baek, Wei Zhou, Xin Huang and Lyoto Ross - will be exhibiting their work at Glasgow's citizenM hotel this autumn. We are hugely grateful to citizenM for their ongoing support for the MFA programme, which over the last nine years has given so many of our students and graduates the chance to show their work to new and broader audiences both here in Scotland and further afield."
Glasgow School of Art MFA Students on display:
Joy Baek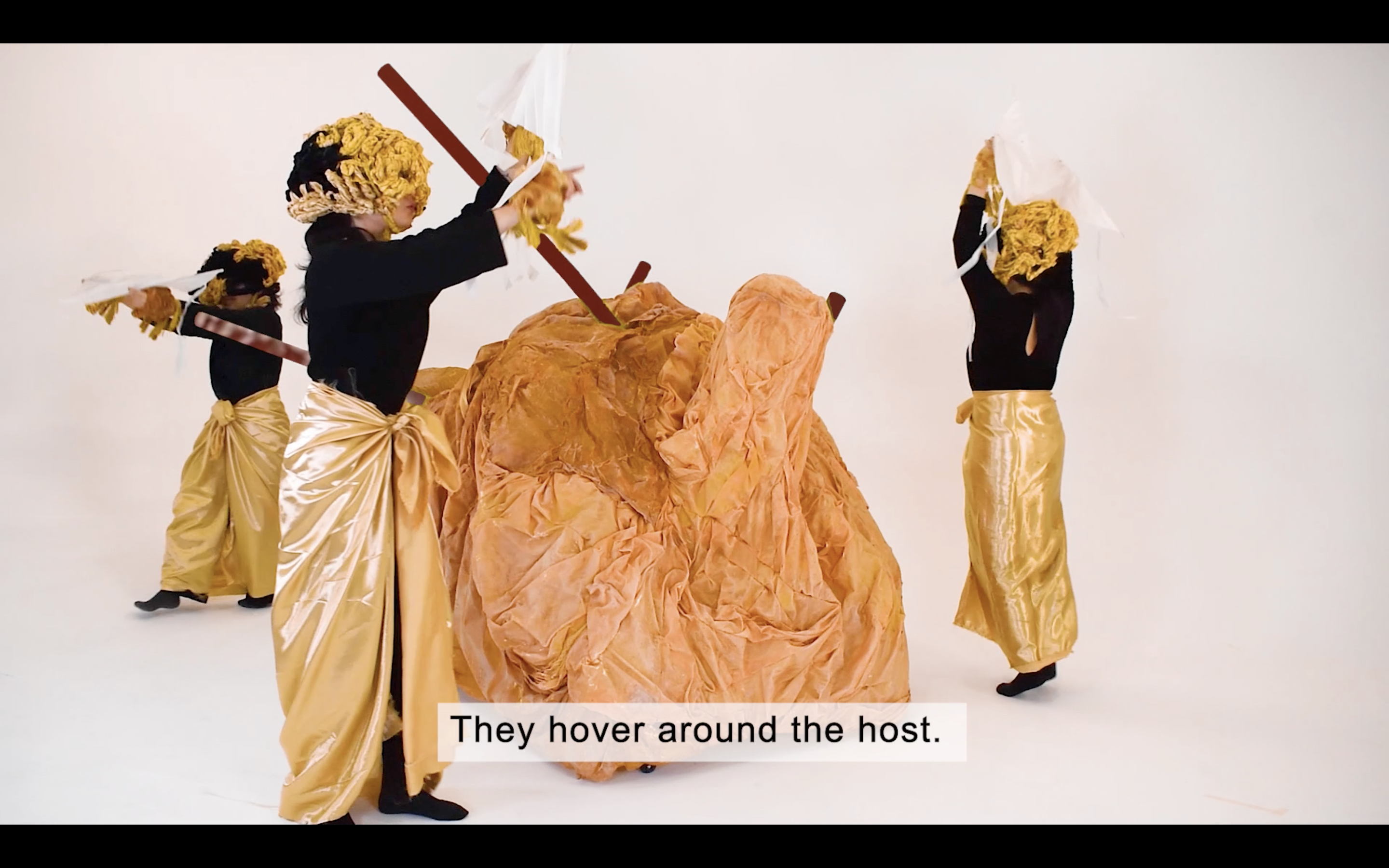 Joy Baek is a Korean artist currently based in Glasgow and London. Adopting a multidisciplinary practice, Baek explores art as a line of dialogues which record the history of our times.
Addressing the socio-cultural issues in Korean society, Baek's work embodies both public and private interpretations of those issues.
She graduated with a Fine Art (BA) from the Chelsea College of Arts in London and from the MFA at The Glasgow School of Art in 2022.
Immortal Things in the World of Mortal Beings, at least in the world that I see
Video and installation
Duration: 08:30 mins
2022
Performers: Nanjoo Lee and Haeun Kim
Assistant: Hayden Judd
Wei Zhou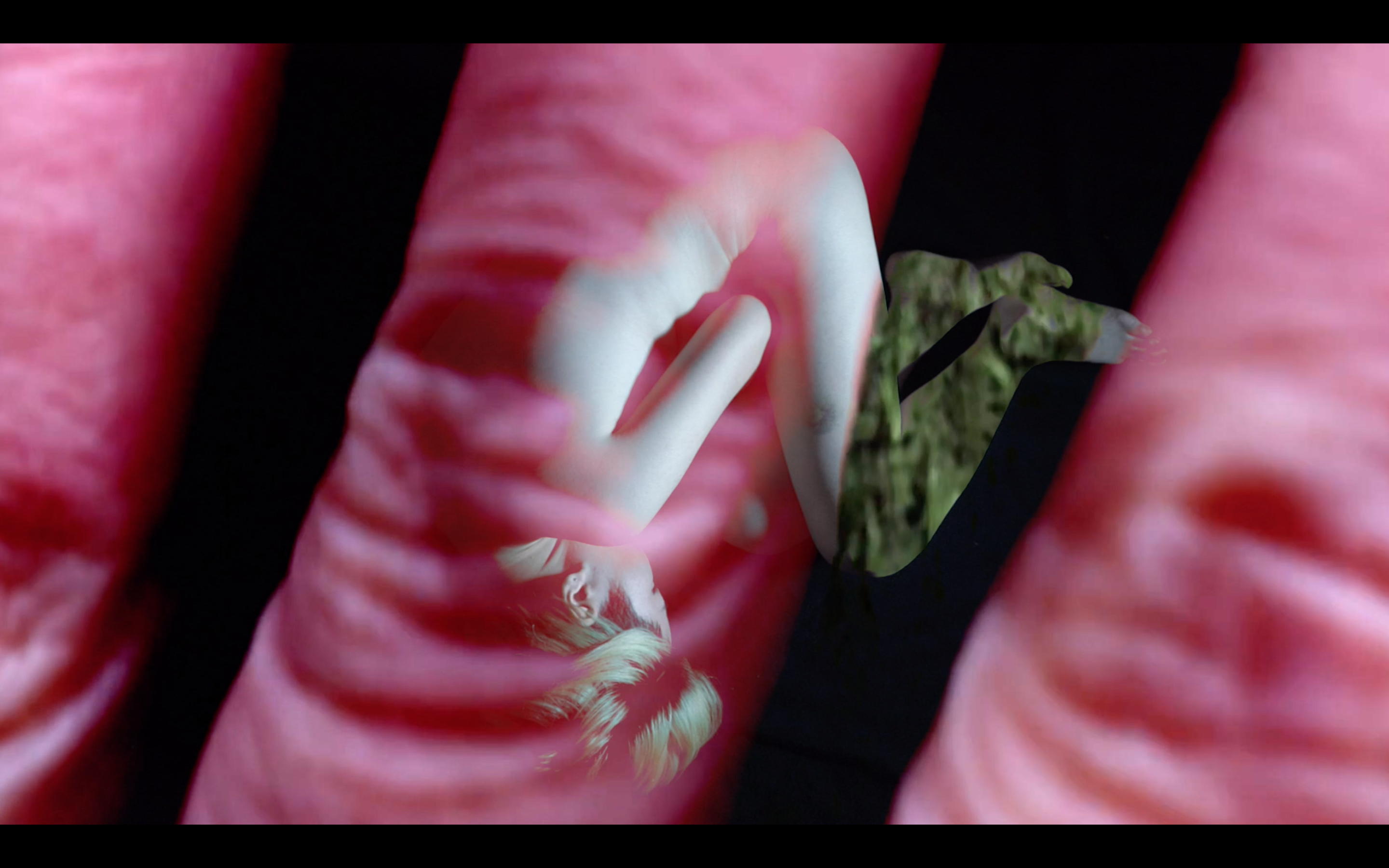 Wei Zhou (b.1993) is a Chinese filmmaker and multidisciplinary artist based in Glasgow, UK. She recently graduated with a Master of Fine Art at the Glasgow School of Art in 2021 and previously obtained MSc in Filmmaking and Media Arts at the University of Glasgow and BA in Radio and TV Directing at Human Normal University.
Her art practice encompasses video, photography, sound, and text. She often uses an autobiographical voice in her work, whether realistic or imaginary, they often reflect on the topics of senses and eroticism. She has exhibited her work in various locations such as Glasgow, London, Changsha, Graz, and Hamburg.
Becoming Octopus
Video
Duration: 06:04 mins
2022
Xin Huang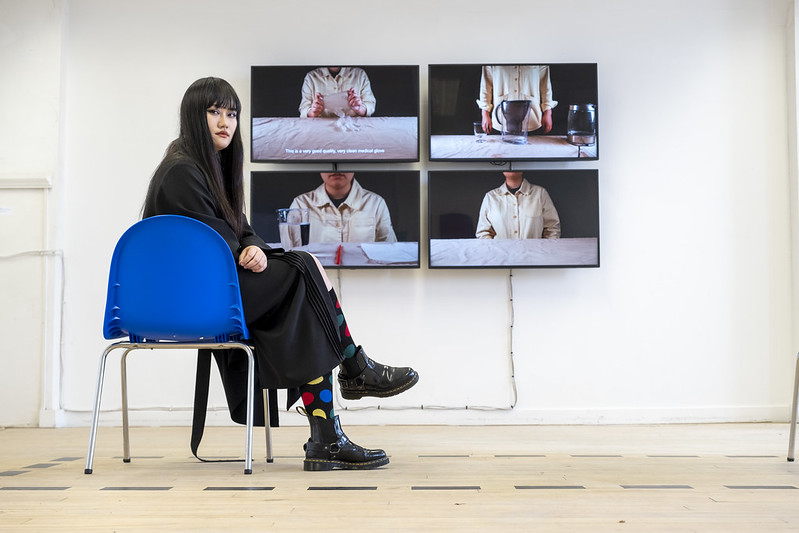 Xin Huang is a Chinese multidisciplinary artist currently based in Glasgow, UK. Her moving image, text, and installation often explore trauma, personal and collective memory, death, and unconsciousness. In her current works, she is concerned with how narrative, storytelling, and fiction are used to visualize the emotions, stories, distance, political traces, and struggles of the trauma underneath the pandemic.
IT IS A SERIOUS INSTRUCTION
Video
Duration: 13:09 mins
2022
Lyoto Ross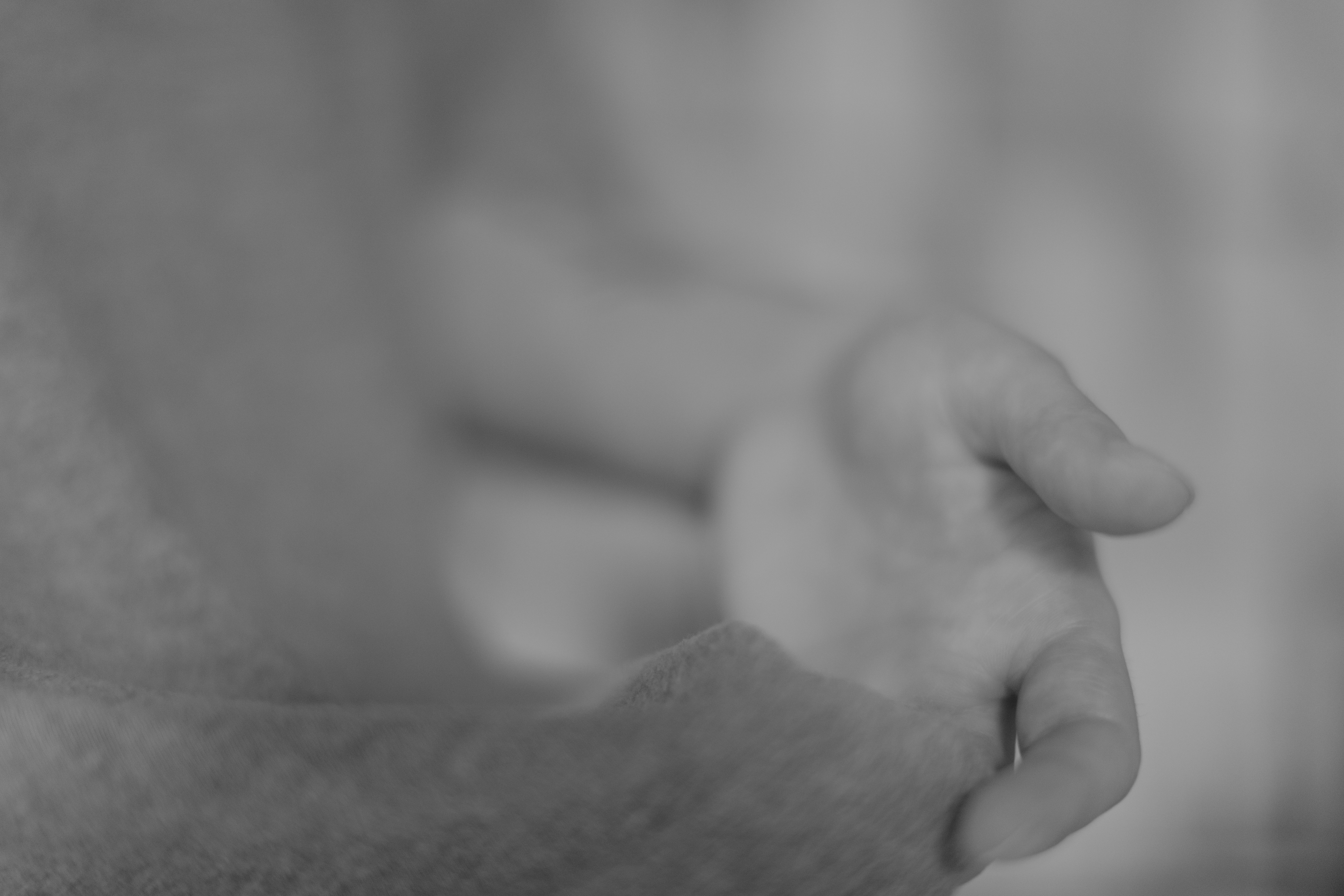 Lyoto Ross (b. 1989) is an artist based in Glasgow, who works with moving image, photography and sound. His practice is predominantly concerned with discourses on subjectivity and vulnerability. 
Ross comments: "I used my relationship to the feature film Girl, Interrupted (1999) and its source material (Susanna Kaysen's 1993 memoir of the same name) as the basis of this particular work. An emphasis was placed on thinking about forms of identification and idealization in relation to borderline personality disorder."
Four Aprils
Video
Duration: 04:48 mins
2021-2022
Notes to Editors
The exhibition is on display until 20 November 2022 at citizenM Glasgow:
citizenM Glasgow
60 Renfrew Street
Glasgow G2 3BW
For further information and press materials please contact Camron Global:
About citizenM
citizenM was launched in 2008 with a purpose – to disrupt the traditional, stale hotel industry. Rattan Chadha – the founder of the global fashion brand Mexx – was inspired by his employees to create a hotel for today's frequent travellers, giving them everything they need and nothing they don't. This means central locations in the world's most exciting cities, but at an affordable price. Not just a place to sleep, but somewhere to work, relax and play – just like home. Somewhere with superfast free Wi-Fi, tech that makes life easy, and world-class art that isn't 'hotel art'. A room with an ultra-comfortable XL bed to crash in, and a powerful rain shower to wake-up in. Rattan Chadha called this 'affordable luxury for the people'.
The first citizenM opened at Amsterdam's Schiphol Airport in 2008. As of October 2022, citizenM's portfolio has 29 hotels in 18 exciting cities: London, Glasgow, Amsterdam, Rotterdam, Paris, Copenhagen, Zurich, Geneva, New York, Los Angeles, Miami, Boston, Seattle, San Francisco, Washington DC, Chicago, Taipei and Kuala Lumpur.
The Glasgow School of Art
The Glasgow School of Art (GSA) was founded in 1845 as one of the first Government Schools of Design, as a centre of creativity promoting good design for the manufacturing industries of Glasgow. However, the School's lineage can be traced to 1753 when Robert Foulis established a school of art and design in Glasgow, which was described as the single most influential factor in the development of eighteenth-century Scottish Art.
Today, The GSA is internationally recognised as one of Europe's leading university-level institutions for the visual creative disciplines. Our studio-based approach to research and teaching brings disciplines together to explore problems in new ways and to find innovative solutions. The studio creates the environment for inter-disciplinary working, peer learning, critical inquiry, experimentation and prototyping, helping to address many of the great challenges confronting society and contemporary business.
Elisa Revak
Account Executive, Camron PR