citizenM presents unique Vitra furniture designs reimagined by students at The Glasgow School
Following a year of mentoring and development, three student designs will be displayed at citizenM Glasgow during COP26, before being auctioned to fund future sustainability education at The GSA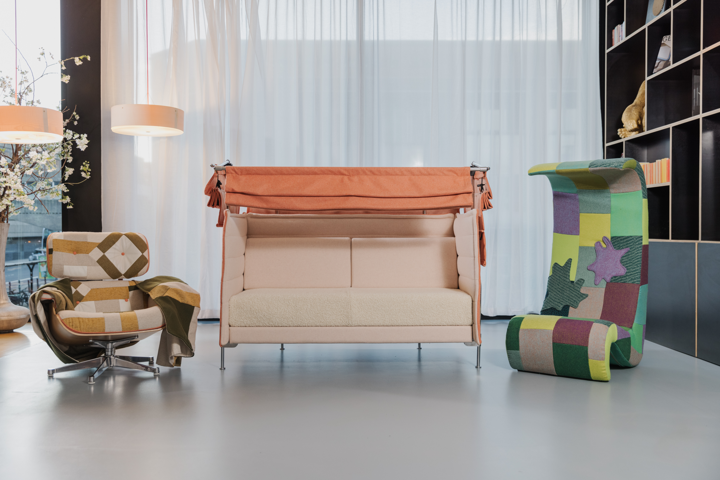 1st NOVEMBER 2021 Glasgow, UK: The academic and design partnership between award-winning lifestyle and hotel brand citizenM and The Glasgow School Of Art (The GSA) began in October 2020 from a simple prompt: giving new life to citizenM's most striking and recognisable interior design feature, its iconic Vitra furniture. The results of the project are being revealed for the first time to coincide with the Glasgow United Nations Climate Change Conference (COP26) in November 2021. Following the exhibition, two pieces will be auctioned through Artsy to fund future sustainable design education at The GSA; one will remain at citizenM Glasgow.
​​
​At citizenM Glasgow, which opened in 2010, some of the furniture pieces understandably needed to be refreshed. In line with its sustainability ethos, citizenM decided to refurbish these pieces rather than replacing them. To do so it initiated a multi-faceted project with The GSA that saw postgraduate Interior Design students from the world-leading art school commissioned to submit their take on three iconic Vitra pieces.
​​
​The Interior Design students were briefed in January 2021 and were invited to submit designs for the pieces, following which three students were selected in June by a panel of industry experts including Sarah Douglas - Wallpaper's Editor-In-Chief, Christian Grosen Rasmussen - Chief Design Officer of Vitra and Claudia Abt- citizenM's Design Director to take their ideas through to completion. The emerging designers received further mentoring and an immersion into the process of bringing a piece of furniture to life by Vitra as well as a team of professional upholsterers. Once fully developed the furniture pieces were sent for manufacturing in Autumn. Scottish company Bute Fabrics supplied the textiles for the project and the designers were connected with local Scottish manufacturing partner Filament Studio, all facilitated and made possible by citizenM. Finally, the pieces were upholstered by Glasgow based Art of Upholstery. ​
​​
​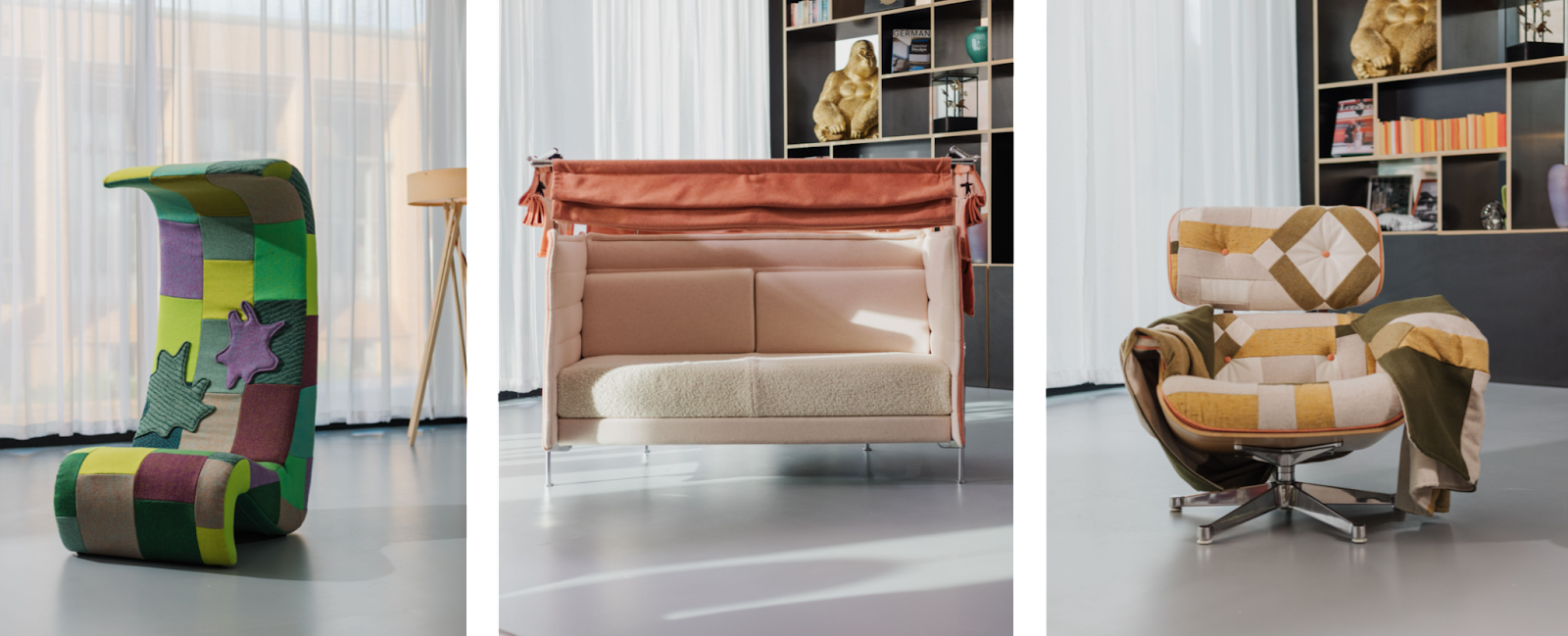 (L) Amoebe Highback by Yun Liu-When/(C) Alcove Two-Seater by Ying Cheng/(R) Eames Lounge Chair by David Ross
The results are three pieces of furniture given a new lease of life; the Alcove Two-Seater designed by Ronan & Erwan Bouroullec, 2006 and redesigned by Ying Cheng; Amoebe Highback by Verner Panton, 1970 and redesigned by Yun Liu-When; and the iconic lounge chair by Charles & Ray Eames, 1956 reimagined by David Ross. ​
​​
​The pieces will be presented in parallel to the United Nations Climate Change Conference (COP26) from 1st November 2021 and will stay on display at citizenM Glasgow throughout the month. One piece will then remain in the hotel and two will be made available for the public to buy through the online platform Artsy in order to fund future sustainable design education at The GSA. The sale opens today through the link below and will remain live until both pieces are sold. ​ www.artsy.net/institutions. ​
​​
​citizenM's vision is to influence positive change in a world where we are simply guests. Its Environmental Social Governance (ESG) strategy focuses on how the business, its development and hotel operations can contribute to positive environmental, social and economical outputs – not only for hotel guests, investors and employees, but the communities as well. citizenM aims to make positive movements in society by shortening the distance between people and opportunities; locally and globally.
​​
​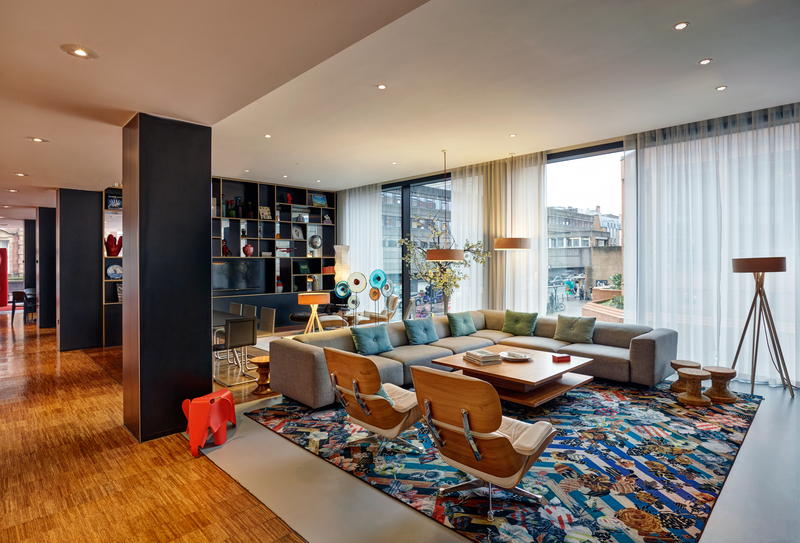 citizenM Glasgow
​​
​Robin Chadha, Chief Marketing Officer of citizenM commented "We are so pleased to see the final results of this project which exceed our expectations. citizenM's long-standing collaboration with The GSA is always a highlight for us as we strive to champion a new generation of artists and designers. With this project we were also able to further our sustainability mission and inspire to diminish waste by seeking to reuse and repurpose quality pieces rather than discard and replace them. The three winning designs drew inspiration not only from Glasgow's rich history but also from the student's own experience of working on this project during lockdown, subjects which take shape in the beautifully-crafted final pieces."
​​
​This was a tremendous opportunity for our students to develop their professional practice and to benefit from the expertise of one of the world's most influential design companies," says Penny Macbeth, Director of The Glasgow School of Art.
​​
​"A commitment to sustainable design is crucial if we are to address climate change, one of the biggest challenges facing the world today," she adds. "Both citizenM and Vitra are known for championing sustainable design, so this was an exciting project that gave our students particular insight into how to embed it in their own design thinking. Congratulations to Ying Cheng, Yun Liu-When and David Ross. We are looking forward to seeing their winning designs on show at citizenM Glasgow."
​​
​www.citizenm.com/gsa-x-citizenm ​
​​
​Ends.
​
---

​Note to Editors
​​
​Chair display ​
​​
​1st November - 30th November ​
​citizenM Glasgow
​60 Renfrew St, G2 3BW
​​
​Press contact
​​
​Camron PR ​
​Rachael Jevons | Francesca Formenti
​[email protected] ​
​​
​For The GSA media enquiries and access to the campus please contact:
​Lesley Booth
​[email protected] / 0779 941 4474
​​
​About the collaboration ​
​​
​citizenM has a longstanding relationship with The Glasgow School of Art, which began with a partnership with the Master of Fine Arts programme in 2013. Since then, citizenM has helped to launch the careers of 184 The GSA artists, with 33 benefiting by being selected to show within the group's hotels globally. citizenM has also provided mentoring and access to influential networks for the next generation of designers and artists. This has included a Fine Art Photography showcase during the prestigious Photo London festival for undergraduate students as well as industry projects for Interior Design students.
​​
​About citizenM
​​
​citizenM was launched in 2008 with a purpose – to disrupt the traditional hotel industry. Rattan Chadha – the founder of the global fashion brand Mexx – was inspired by his employees to create a hotel for the modern travellers, giving them everything they need and nothing they don't. This means central locations in the world's most exciting cities, but at an affordable price. Not just a place to sleep, but somewhere to work, relax and play – just like home. Somewhere with superfast free Wi-Fi, tech that makes life easy, and a great bed to crash in at the end of a long day. Rattan Chadha called this philosophy 'affordable luxury for the people'.
​​
​The first citizenM opened at Amsterdam's Schiphol Airport in 2008. Today, citizenM's portfolio includes 23 hotels in 15 exciting cities: London, Glasgow, Amsterdam, Rotterdam, Paris, Copenhagen, Zurich, Geneva, New York, Los Angeles, Boston, Seattle, Washington DC, Taipei and Kuala Lumpur.
​​
​In summer 2020, citizenM launched an app that's much more than a room reservation tool. The app enables fully contactless stays (checking in, opening doors, adjusting room ambiance, paying for purchases all via the guest's own smartphone), and adds dozens of local perks (like discounts on bike rentals and food), tailored experiences, collectable badges and city guides. The app and contactless journey is the first of its kind in the world.
​​
​www.citizenM.com ​
​@citizenM
​​
​About The Glasgow School of Art
​​
​The Glasgow School of Art (The GSA) was founded in 1845 as one of the first Government Schools of Design, as a centre of creativity promoting good design for the manufacturing industries of Glasgow. However, the School's lineage can be traced to 1753 when Robert Foulis established a school of art and design in Glasgow, which was described as the single most influential factor in the development of eighteenth-century Scottish Art. Today, The GSA is internationally recognised as one of Europe's leading university-level institutions for the visual creative disciplines. Our studio-based approach to research and teaching brings disciplines together to explore problems in new ways and to find innovative solutions. The studio creates the environment for inter-disciplinary working, peer learning, critical inquiry, experimentation and prototyping, helping to address many of the great challenges confronting society and contemporary business.
​​
​www.gsa.ac.uk ​
​@GSofA
​​
​About Bute
​​
​Bute Fabrics was founded in 1947 by the 5th Marquess of Bute with the sole purpose of providing employment opportunities for service people returning home from the Second World War. Since then, it has gone from strength to strength, cultivating markets worldwide and consistently pushing the boundaries of innovation. To this day it is supported by the Bute family and shares in their continuing commitment towards the local community.
​​
​The Isle of Bute is steeped in history and has an astonishing array of different landscapes. These ready-made palettes of colours and textures provide us with a continual source of inspiration and with the use of natural wool fibre we create world class fabrics that are sustainable and environmentally friendly. It's so peaceful, you'd be forgiven for thinking we're a million miles away from it all. In fact, Bute is one of Scotland's most accessible islands and only 33 miles away from the city of Glasgow. Which means we can dispatch our fabrics to customers all over the world in the blink of an eye. The Isle of Bute is the perfect home for our internationally acclaimed business.
​​
​We have some of the most technically advanced woollen fabrics in the industry and nothing matters more to us than its quality and performance. All of our textiles go through extensive and rigorous testing in our in-house laboratory. It's crucial our customers have a durable fabric, especially when it comes to high performance environments. It's not just our looms that are at the heart of Bute Fabrics: our people are too. ​
​​
​It's their specialist skills and drive that make it possible for us to be leaders in an international marketplace. It's this perfect combination of machinery and knowledge that ensures we're the natural choice for fabric solutions and that we always have a product our customers love.
​​
​www.butefabrics.com ​
​@butefabrics
​
About Filament
​​
​Filament is a product design and development company based in Finnieston, Glasgow.
​​
​Filament's team of designers, engineers and strategists transform technology into connect product experiences.
​​
​Developing products for sectors including Digital Healthcare, Renewables, Smart buildings, Circular Economy and Consumer goods, Filament connects the dots between the user, technology and business to develop successful product solutions for customers, partners and themselves. ​
​​
​www.filamentpd.com ​
​[email protected]
​@filamentpdltd