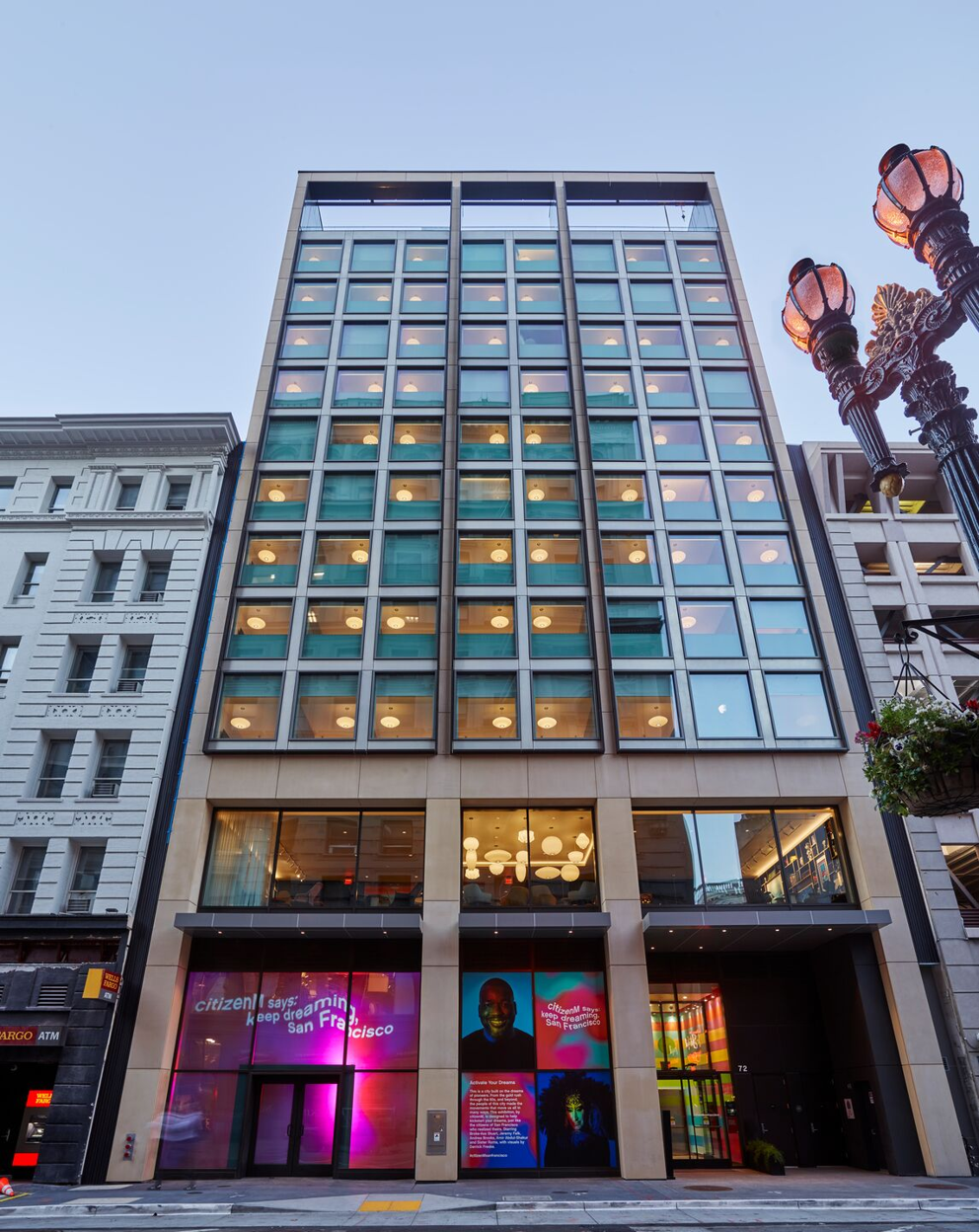 citizenM Opens First San Francisco Property
citizenM San Francisco Union Square marks the award-winning Dutch hotel brand's first property in the Bay Area, with others to follow in the coming years
17 November 2021: citizenM – the pioneer of affordable luxury hotels – opens its doors in San Francisco. citizenM San Francisco Union Square follows citizenM Los Angeles Downtown as the company's second hotel in California this year, signalling the ambitious commitment to U.S. expansion, which will continue with five new U.S. locations opening in 2022. 
In celebration of citizenM's introduction to the city, citizenM San Francisco Union Square will open with a photography campaign on the exterior of its façade. Facing the neighborhood, citizenM will install a series of artwork on the ground floor retail space that captures the spirit of San Francisco through brightly colored, back-lit portraits. San Francisco is an ever-changing, ever-evolving city of dreamers, and these portraits will highlight the citizens who make San Francisco a home. The use of graphics, light, and color to create movement in the images will represent the significance of movements and progress in the fabric of citizenM as a brand, and San Francisco as a city. The installation will be live until December 8. www.citizenm.com/san-francisco-opening
As with all of its hotels, citizenM will bring art to the forefront of their San Francisco Union Square location with a series of commissioned works and existing pieces. A wide variety of in-room art, wallcoverings, and one of a kind pieces comprise the collection including works by Neo Matloga, Rainer Fetting, Jonas Ohlsson, Lu Pingyuan, Lakwena Maciver, Samuel Albert Borkson and Arturo Sandoval III, Mark Ulriksen, t.w. five, and Sharon Virtue.
The hotel will boast a standout, commissioned artwork by Los Angeles-based FriendsWithYou, the art collaboration between Samuel Borkson and Arturo Sandoval III, known for their work with the likes of Pharrell Williams and Diplo. Their artwork for citizenM San Francisco Union Square, titled Digital Sunflower, captures the citizenM dreamer's essence throughout the hotel. Digital Sunflower is composed of simplified geometric abstractions with whimsical touches that will inspire a playful experience that will engage guests through the simple happiness found in a friendly smile, drawing on the connectivity and accessibility. Art found in communal spaces and rooms are similarly inspired and additionally will include pieces that speak to San Francisco's celebration of diversity culture. ​ 
About citizenM San Francisco Union Square 
citizenM San Francisco Union Square is the first of the brand's properties to open in the city and the second in the state. Additional properties planned for the next year include citizenM Miami World Center (projected opening Q1 2022), citizenM Miami Brickell (projected opening Q1 2022), citizenM Seattle Pioneer Square (projected opening Q1 2022), citizenM Washington DC NoMA (projected opening Q2 2022), and citizenM Chicago Downtown (projected opening Q4 2022).
Building upon the brand's commitment to the United States, these openings will complement the existing citizenM US portfolio in Boston, New York, Seattle, Los Angeles, and Washington, DC, bringing the total offering to 11 hotels across the country and 28 worldwide.
citizenM collaborated with its long-time design partner, concrete Amsterdam, on citizenM San Francisco Union Square's design, with Gensler as the local architect. The third floor entrance welcomes guests not into a traditional lobby with a reception desk, but into a living room that feels like home – furnished with plenty of books, art and furniture. Styling items reflect the liberal, young, revolutionary spirit of San Francisco. Shifting the focus away from the tech side of the city, citizenM San Francisco Union Square's styling and design narrative focuses on equality and inclusivity, and features items with references to neighborhoods like Castro and Mission. In the heart of the living room guests can find a canteenM, serving food and drinks 24/7.
The 195-room, 12-story hotel offers a gym, retail mezzanine, rooftop terrace and more. The gym is located on the fourth floor with top-of-the-line equipment - including Peloton - and continuing up, guests can find the terrace on the 13th floor outfitted with picnic tables and greenspace, and accessible to the public
The bedrooms are all one style – cosy in size, but perfectly optimised for relaxation with a wall-to-wall window, an enormous XL king-size bed topped with the finest European linens, a jetlag-busting power shower, and an HD TV with streaming capabilities. Superfast free Wi-Fi is unlimited and perfect for streaming one's own films or music straight to the TV. A MoodPad tablet controls the ambience – from temperature to blinds to entertainment.
Rates at citizenM San Francisco Union Square start from $149.
Affordable luxury gets smart with citizenM's contactless experience 
As ever, citizenM's main goal is to alleviate the health and safety concerns of global travelers. In 2020, citizenM launched its award-winning app for iOS and Android devices, giving guests more control over their stay than ever before. 
citizenM's famous one-minute check-in via the self-service kiosk can now be done via the app on the way to the hotel, and guests can also use their own smartphone to open the room. ​ 
The contactless experience continues in the bedrooms. All room controls – lights, blinds, temperature, colour settings, and entertainment – can now be done through the citizenM app, without touching the in-room tablet or wall switches. 
Through the app chat function, guests are able to request services like extra pillows and toiletries, report faults in the room and book wake-up calls. Daily food and beverage menus are viewable in the app, with full order-placing functionality as well. 
All items available for purchase at the hotel, including collectionM gifts, food, drinks, snacks, books, and travel essentials, can be charged to the room and paid for via the app. 
A fully contactless check-out is also available, offering guests the ability to settle any remaining balances through the app. 
In addition to the contactless experience, app users can discover local hotspots, unlock local perks, and learn where the best green spaces and running routes are. For convenience, there's a 'walking distance' search filter highlighting attractions that are a short stroll from any citizenM hotel. Guests will enjoy an affordable contact-free hotel stay powered by superior technology. The new standard is smart luxury for all.
About citizenM
citizenM was launched in 2008 with a purpose – to disrupt the traditional hotel industry. Rattan Chadha – the founder of the global fashion brand Mexx – was inspired by his employees to create a hotel for the modern travellers, giving them everything they need and nothing they don't. This means central locations in the world's most exciting cities, but at an affordable price. Not just a place to sleep, but somewhere to work, relax and play – just like home. Somewhere with superfast free Wi-Fi, tech that makes life easy, and a great bed to crash in at the end of a long day. Rattan Chadha called this philosophy 'affordable luxury for the people'.
The first citizenM opened at Amsterdam's Schiphol Airport in 2008. Today, citizenM's portfolio includes 24 hotels in 16 exciting cities: London, Glasgow, Amsterdam, Rotterdam, Paris, Copenhagen, Zurich, Geneva, New York, Los Angeles, San Francisco, Boston, Seattle, Washington DC, Taipei and Kuala Lumpur.
citizenM positioning
citizenM places in an 'upscale hotel' category (based on measurable factors like the STR Global Chain Scale positioning matrix, which ranks hotels based on price vs review scores) – thanks to an unfailing dedication to design, art, technology and comfort. citizenM stands out among all other hotels by simply creating a category of its own – as an affordable luxury hotel. 
Website: 
@citizenM
Press contacts: 
Tim Monaghan / [email protected] 
Liz Maguire / [email protected]