citizenM Opens First Chicago Hotel in the Heart of Downtown
Award-winning hotel brand marks its debut in Chicago with artwork by Nina Chanel Abney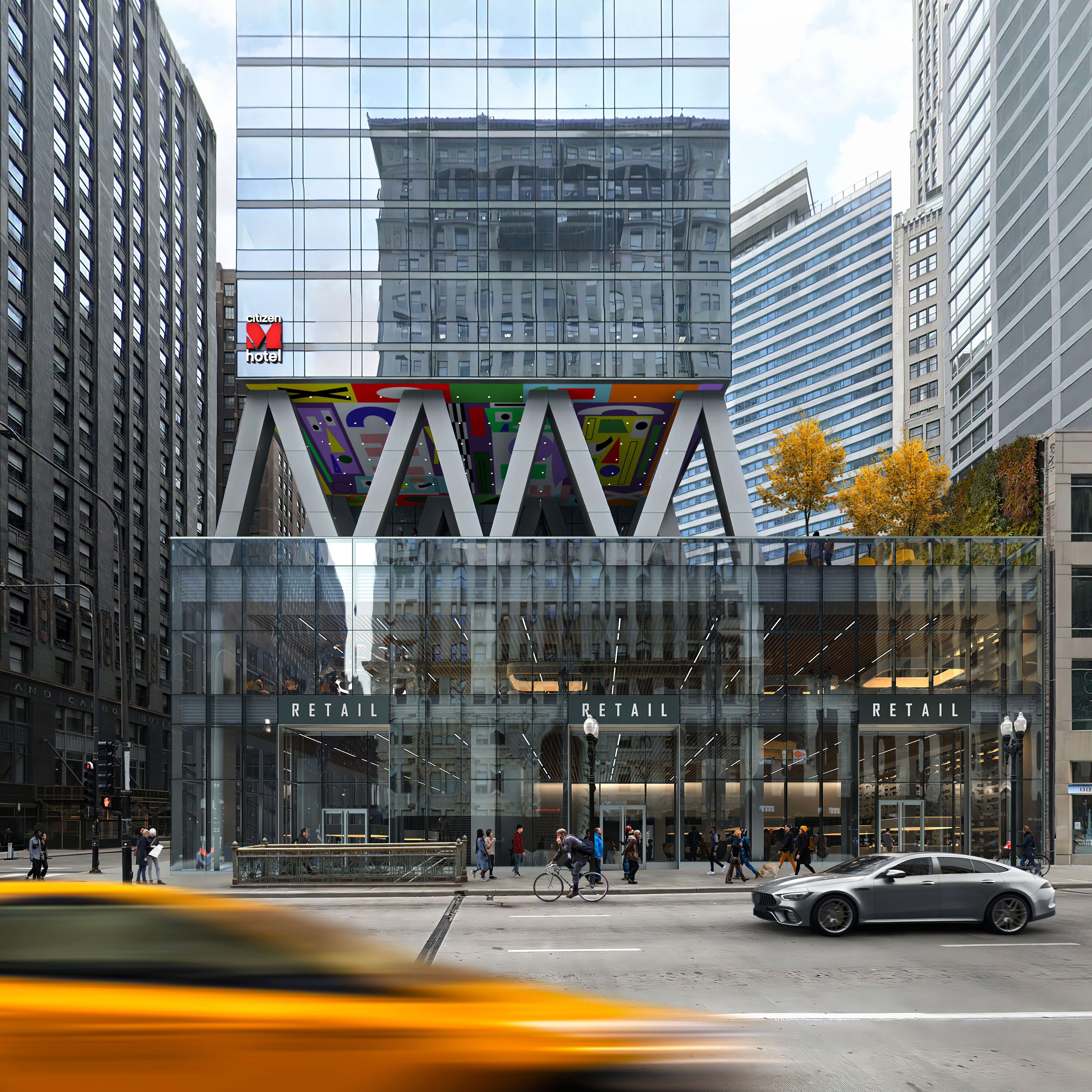 September 7, 2022 - citizenM — the pioneer of affordable luxury hotels — is set to open its first property in Downtown Chicago on September 21st. The newly-constructed hotel, located at 300 N Michigan Avenue, is conveniently situated between the Riverwalk and Millennium Park. citizenM Chicago Downtown presents travelers with eye-catching art, high-tech design and frictionless service in one of the most culturally robust cities in the world. The 280-room hotel sits within the 47-story tower which also includes 289 residential units and 25,000 square feet of retail space. 
To mark citizenM's arrival, Chicago native Nina Chanel Abney was commissioned to transform the building's exterior 2,000 square foot terrace and entrance walls into a gigantic abstract and vibrant Chi-town tribute. The inspiration behind her work is fueled by the dynamics of the contemporary media landscape and addresses topics of race, gender, and politics. Known for her paintings, prints, and large-scale murals with layered compositions, her figural works feature colorful hard-edged geometric symbols and shapes.
"As one of the most important markets in the US, it was critical for citizenM to have a presence in Chicago," says Robin Chadha, Chief Marketing Officer, "the property will add a significant new tower and a pop of color to the world-famous Magnificent Mile, while the interiors were curated with a selection of artwork by Chicago natives to give the hotel an atmosphere that embodies the city."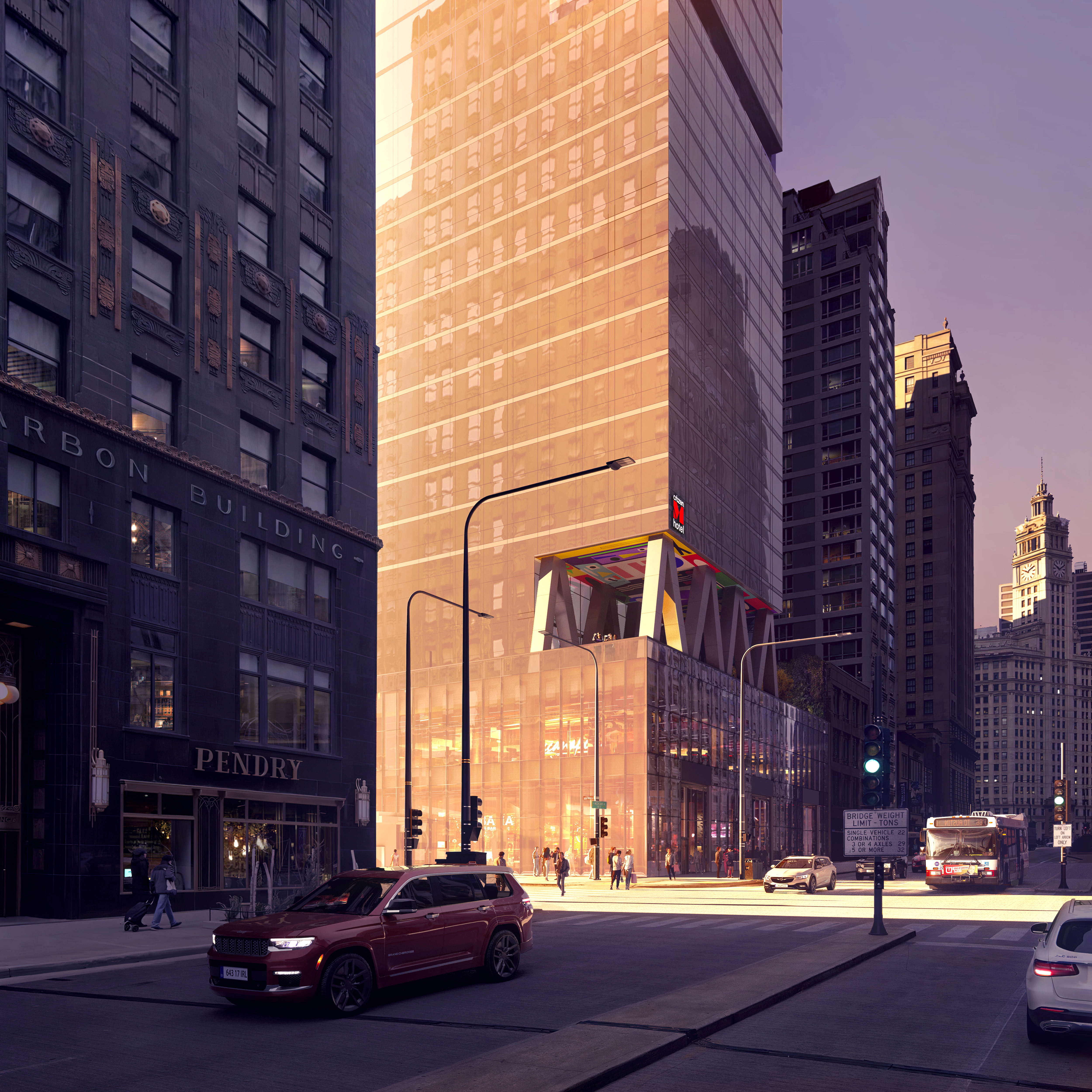 Visitors can expect the same unfailing dedication to design, art, technology, and comfort, seen throughout all of citizenM's properties. The property was designed by Chicago's bKL, in collaboration with citizenM's long standing architecture partner Concrete to offer a streamlined, luxury experience — including high-tech amenities, friendly and genuine service, comfortable guest rooms, and spacious and inviting living areas filled with contemporary art and iconic furnishings such as Vitra, citizenM's furniture partner. citizenM Chicago Downtown features a 24/7 gym and three societyM meeting rooms, available for half and full day hires to both guests and the public, offering unlimited coffee to let ideas flow.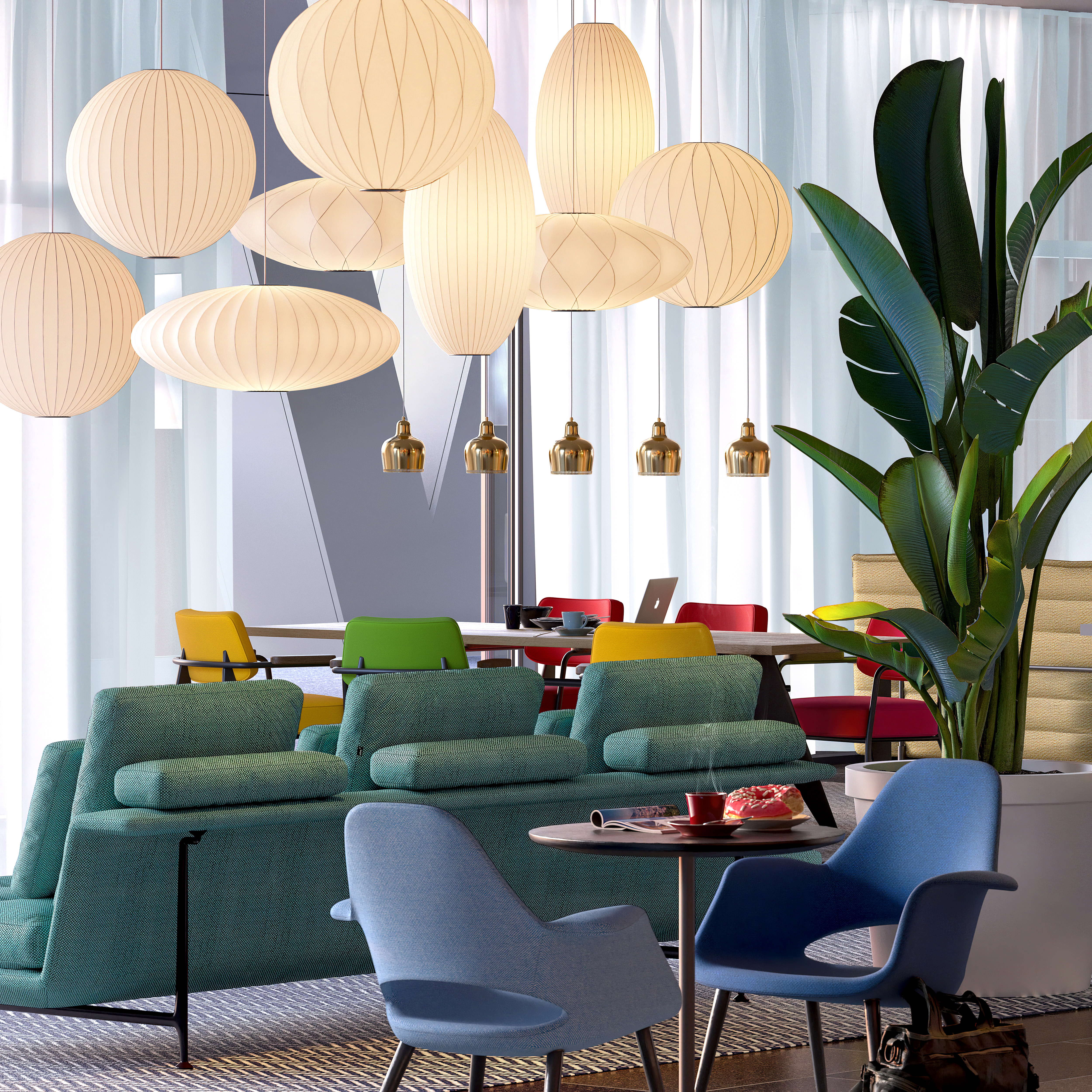 citizenM's philosophy of "affordable luxury" is best experienced in the guestrooms. The rooms are smartly furnished with "everything modern travelers need, and nothing they don't." All guestroom features are designed to be the very best: the beds are XL king- size wall-to-wall with an extra comfy mattress and luxury bedding. An HD widescreen TV offers streaming options via free super-fast Wi-Fi, so that guests can enjoy their own content. A powerful rain shower with full-size shower gel and shampoo (as well as giant fluffy towels) will soothe all long- and short-haul travelers. The room ambiance is fully controlled by an iPad – the blinds, climate, the TV, even the lights with changeable colors – or via the award-winning citizenM app.
The facade mural is just the first piece of a larger portfolio that will give the new property an art collection that is distinct to Chicago. A whimsical neon piece entitled Ding Dong Your Opinion is Wrong, by Dutch artist Daniel Straalen van will be showcased prominently in the bar area, while works by Muntean/Rosenblum, Yngve Holen, Joel Mesler, and more can be found throughout the hotel's shared spaces. The rooms and interiors also drew inspiration from the local community, filled with an eclectic mix of contemporary art, photography, and objects by local artists.
citizenM continues to make it a priority to support the communities the brand operates in by bringing art to the forefront through commissioned and existing works by local artists. For this property, citizenM partnered with ArtLifting - a platform for artists that have traditionally been underrepresented in the contemporary art market, to curate a variety of pieces for the in-room art. The program offers artists who suffer from a variety of challenges, from disabilities to homelessness, the chance to secure their own income through the sale of original paintings, prints, and products. ​ "Instead of defining people by their circumstance, we should define them by their talent." Liz Powers, Co-Founder, ArtLifting. ​ citizenM and ArtLifting share the same belief that art is a force for good and together they amplify a space for opportunity, empowerment, and validation.
Meet The In-Room Artists from ArtLifting 
Alex Scott - a Chicago native who makes art to be seen. His artistic voice is identified through strong line work, simple shapes, and flat colors for his compositions.
Kenneth Williams - creates artwork as a way to envision new possibilities for urban development and social equity in Chicago. "I am an artist, a creator of change," he shares.
Sheila Smith - a Chicago-based artist who creates artwork to process and communicate her thoughts and feelings. Sheila creates artwork to serve as a source of hope and inspiration for others living with mental illness.
Ted Gram-Boarini - an abstract expressionist artist whose work is marked by a strong use of color. "Color is what drives me to get a great design or great idea," Ted shares.
In July 2022, citizenM launched citizens of the world — a global content series to celebrate the creative and diverse communities in each of the cities where citizenM is present. Spotlighting citizens across five pillars: art, business, culture, fashion, and party, the series will showcase the global citizens who embody and represent their cities and connect across borders. citizenM chose JC Rivera as the art citizen for Chicago Downtown whose work will be featured throughout the guest rooms. 
Building upon the brand's commitment to the United States, this opening will complement the existing citizenM US portfolio in Boston, New York, Seattle, Los Angeles, San Francisco, Washington DC, and now Chicago, bringing the total offering to 10 hotels across the country and 27 worldwide. ​ By 2024, citizenM is aiming to reach 40 operational properties globally and currently has hotels under development in Miami and Austin, bringing the total to 30 locations by the end of the year. 
About citizenM
​citizenM was launched in 2008 with a purpose – to disrupt the traditional, stale hotel industry. Rattan Chadha – the founder of the global fashion brand Mexx – was inspired by his employees to create a hotel for today's frequent travellers, giving them everything they need and nothing they don't. This means central locations in the world's most exciting cities, but at an affordable price. Not just a place to sleep, but somewhere to work, relax and play – just like home. Somewhere with superfast free Wi-Fi, tech that makes life easy, and world-class art that isn't 'hotel art'. A room with an ultra-comfortable XL bed to crash in, and a powerful rain shower to wake-up in. Rattan Chadha called this 'affordable luxury for the people'.
The first citizenM opened at Amsterdam's Schiphol Airport in 2008. As of September 2022, citizenM's portfolio has 29 hotels in 18 exciting cities: London, Glasgow, Amsterdam, Rotterdam, Paris, Copenhagen, Zurich, Geneva, New York, Los Angeles, Miami, Boston, Seattle, San Francisco, Washington DC, Chicago, Taipei and Kuala Lumpur.
Press contact: [email protected]
citizenM Chicago Downtown Fact Sheet
Address: 300 North Michigan Avenue, Chicago, Illinois
Rooms: 280
Floors: 10
Project Team: concrete (designer); bKL (lead architect); Sterling Bay (general contractor) 
Room Features & Amenities 
Wall-to-wall window
XL king-size bed
Powerful rain shower
Luxury bedding and towels
iPad room controls for lights, temperature, TV, blinds 
HDTV with streaming capabilities
Hotel Highlights
Fourth Floor — The Living Room
A living room with books, art, designer furniture, and designated working areas
collectionM – Retail space with an unconventional assortment of travel essentials, souvenirs, gifts and books, curated for the modern traveler
canteenM – An open-plan dining area with 24/7 grab-and-go food and drinks
Bar
societyM rooms - 3 meeting rooms with break out space
Terrace with an outdoor patio to overlook North Michigan Avenue
24/7 gym