citizenM London Victoria now open
A decade after its entry to the capital, citizenM has just opened the doors to its fourth property in central London
---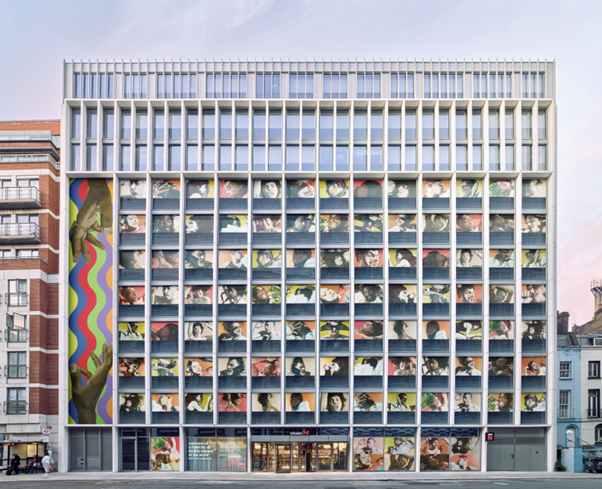 London, 14th July 2022 – This July, affordable luxury hotel and lifestyle brand citizenM opens the doors of its newest UK property in the heart of central London: citizenM London Victoria. Ten years after the opening of the brand's first London hotel (citizenM Bankside, since followed by Tower of London and Shoreditch locations), industry disruptor citizenM is delighted to bring its hybrid hotel model to a new address at 292 Vauxhall Bridge Road.
​​
​Intended for business travellers and leisure visitors alike as somewhere to sleep, work, meet and relax, the new hotel neighbours the transport hubs of Victoria train and bus stations on Vauxhall Bridge Road – offering easy links to Gatwick Airport and Greater London - and is close to major London tourist attractions such as Buckingham Palace and Tate Britain.
​​
​citizenM London Victoria's 226 rooms across 10 floors each have an XL king-size bed (and sumptuous bedding), powerful rain shower, one-touch MoodPad control - including pre-programmed mood settings - for ambient lighting temperature, entertainment, wake-up alarm and blinds, and an HD TV with streaming capabilities - all of which can also be controlled via the award-winning citizenM app.
​​
​Interior design of both the rooms and public spaces feature citizenM's trademark clean lines, modern furniture and bold colours. Both the interior and the exterior are designed by citizenM's Amsterdam-based long-standing collaborator Concrete, teaming up with executive architecture and interior design firm Ica.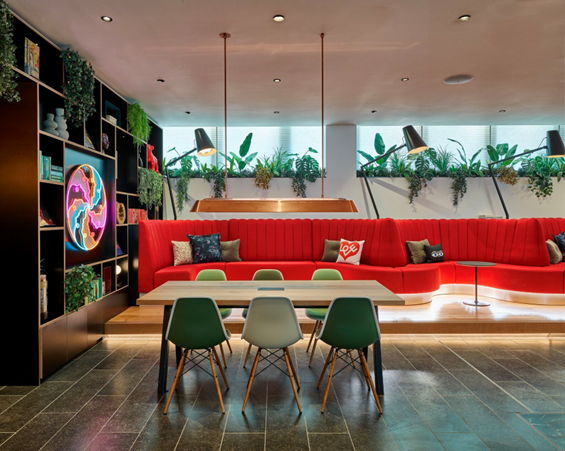 As a hybrid hotel, citizenM has introduced its distinctive communal spaces to this new neighbourhood. The Living Room is intended as a home-from-home; a cosy space with corners and nooks for working, lounging, reading and relaxing. In this space, citizenM's 'curated chaos' includes art, books and local artefacts alongside stylish, comfortable furnishings by long-term collaborator Vitra. ​ 24/7 canteenM is positioned in the centre of the building, serving as pit stop for a bite to eat at any time of day, from early breakfasts to midnight snacks; guests can grab a barista-made coffee to takeaway, linger in the Living Room with a glass of wine, order a working lunch with delicious sandwiches and salads, or indulge a sweet tooth. Behind the bar, a wavy iconic bench is placed on a raised platform, connecting with Kings Scholars Passage (KSP). Natural daylight flows into the building from the open windows at the back of the space.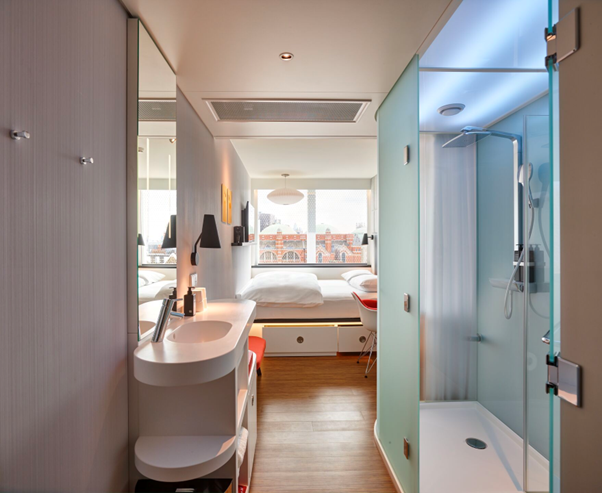 Since its founding, citizenM has placed great importance in supporting and commissioning locally-based artists. A focal part of every citizenM property, the in-room art at citizenM London Victoria has been carefully and playfully curated, showcasing London talent that both documents and re-imagines English culture. In his photographic series, Luke Stephenson tracks the story of the 99p ice cream via a road trip around the UK; while Julie Cockburn, who trained as a sculptor at Central Saint Martins and has been exhibited extensively in the UK, Europe and the US, uses found objects and vintage photographs, re-configuring them in colourful and contemporary ways. Lastly, London-based Lorenzo Vitturi brings his colourful compositions of Ridley Road Market in Dalston, Hackney – the fruits and vegetables and the multicultural neighbourhood over the years – to citizenM's bedroom walls.
Klaas van Lookeren Campagne, CEO of citizenM hotels, says: "Unlike a museum or art gallery, the artwork we feature in our hotels is meant to inspire you, yet make you feel included and at home. In every one of our hotels we like to mix art you recognise with art that keeps you guessing – the kind that stops you in your tracks. We like art that makes you think, without being intimidating."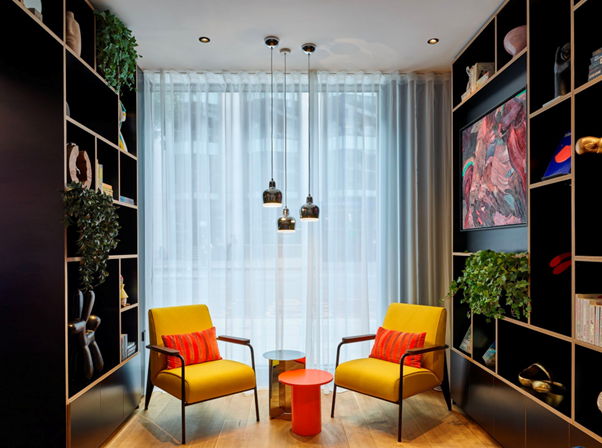 When opening a new hotel, citizenM is always looking for opportunities to bolster and support the local community. For citizenM London Victoria, the brand is delighted to be able to do so with a donation to the KSP Community Garden Project. This historic corner of Westminster runs right by the hotel, and thanks to the support of local partners including citizenM, KSP is creating a public potted garden to revitalise an otherwise overlooked space. ​
​​
​citizenM's hotels offer travellers luxury accommodation at affordable prices in hyper-busy urban centres. The launch of citizenM London Victoria is the perfect embodiment of the brand's intention to provide this to modern travellers across multiple locations in one of the most visited cities in the world. ​ 
Klaas van Lookeren Campagne, CEO of citizenM hotels, says: "We are excited to open the doors to our latest London property. With three hotels already operating successfully in the city, this new property offers a fantastic addition to our existing portfolio and confirms our commitment to expand further in London's most desirable neighbourhoods."
This quarter citizenM also launched the world's simplest hotel membership program: mycitizenM+. With no points to collect, no bronze-silver-platinum levels to achieve, members simply sign up to enjoy 'all the perks without the points'. ​
​​
​Ends.
---
NOTES TO EDITORS:
​About citizenM
​​
​citizenM was launched in 2008 with a purpose – to disrupt the traditional, stale hotel industry. Rattan Chadha – the founder of the global fashion brand Mexx – was inspired by his employees to create a hotel for today's frequent travellers, giving them everything they need and nothing they don't. This means central locations in the world's most exciting cities, but at an affordable price. Not just a place to sleep, but somewhere to work, relax and play – just like home. Somewhere with superfast free Wi-Fi, tech that makes life easy, and world-class art that isn't 'hotel art'. A room with an ultra-comfortable XL bed to crash in, and a powerful rain shower to wake-up in. Rattan Chadha called this 'affordable luxury for the people'.
​​
​The first citizenM opened at Amsterdam's Schiphol Airport in 2008. citizenM's currently portfolio includes 24 operational hotels in 16 exciting cities: London, Glasgow, Amsterdam, Rotterdam, Paris, Copenhagen, Zurich, Geneva, New York, Los Angeles, Boston, Seattle, San Francisco, Washington DC, Taipei and Kuala Lumpur. And another 20 hotels are under development globally. ​
​​
​citizenM intends to keep growing as a fully integrated owner-operator in selected gateway cities around the world. Its unique value proposition, delivering a high profitability per square metre, allows the brand to develop hotels in prime locations in cities with the highest barriers to entry. citizenM can acquire development sites and turnkey delivered hotels and is open to joint ventures on individual projects. citizenM considers new-build developments, office conversions, components of mixed-use schemes or conversions of existing hotels. The company will also selectively consider asset light transactions.
​​
​In Europe the key target cities for new sites are London, Paris, Milan, Rome, Dublin, Munich, Hamburg, Frankfurt, Stockholm, Copenhagen, Zurich, Geneva, and Barcelona. ​
​​
​mycitizenM+
​​
​In March 2022, citizenM launched the world's simplest hotel membership program: mycitizenM+. There are no points to collect, no bronze-silver-platinum levels to achieve, no stale club-lounge muffins, no silly welcome gift. Members simply sign up to enjoy 'all the perks without the points'.
​​
​Guest feedback showed that most travellers want simplicity, value and flexibility. With the mycitizenM+ membership, citizenM guarantees a room - with an extra 10% discount off the lowest public rate - even during busy periods, for all member reservations made at least 48 hours in advance. Additional perks include: free late check-out and a free upgrade to a premium view room (both are subject to availability), a 'first in queue' chat service, early access to discounts, and members-only events. Superfast free Wi-Fi is available at all hotels – plus, guests can use the free citizenM app to check in, create a room key and much more.
​​
​The cost of the membership is recouped within two nights. Billing is monthly (not yearly) at a fixed low rate (only ​ $12 / €10 / £9 a month), and sign-up is for one year. Every citizenM hotel is included, and there are no blackout dates. For more information visit www.citizenm.com/my-citizenm-plus.
​​
​Website: citizenM.com ​
​IG: @citizenM
​​
​Key Facts
Design by Concrete
Executive Architecture by Ica
Project Manager: Rusupo
Agent: Kingly Partners 
Main features: 226 guest rooms, Living room, canteenM 
Basement and ground floor levels and 10 upper floors
Address: 292 Vauxhall Bridge Road, London
Opening July 2022

​About Ica Studio
​​
​Ica Studio is an architecture and interior design studio creating welcome change around the world.
​​
​Established in 2003, Ica Studio is regarded as one of the world's leading hotel architecture and design practices — one with a reputation for securing exceptional planning gain for clients. It's a single space where a 50-strong team of architects and interior designers collaborate to bring the very best ideas to clients all around the world — from the Caribbean to the Inner Hebrides.
​​
​Address: 20 Bell Street Glasgow G1 1LG
​​
​Telephone: +44(0)141 552 2194
​Website: www.Ica.studioLinkedIn: https://www.linkedin.com/company/ica-studio