citizenM launches citizens of the world global content series
The award-winning hotel and lifestyle brand is spotlighting 25 citizens, in 5 cities, across 5 pillars: art, business, culture, fashion and party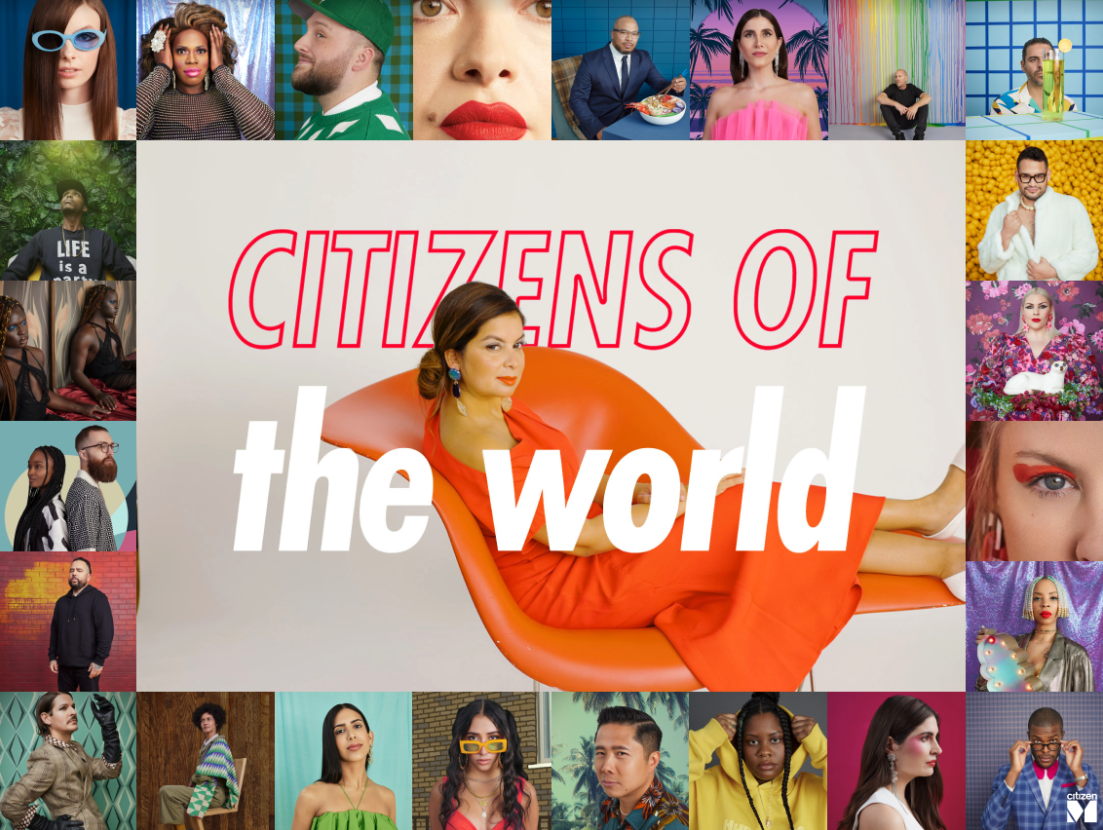 September 29, 2022: citizenM – the pioneer of affordable luxury hotels – ​ has launched a global content series to celebrate the creative and diverse communities in each of the cities where citizenM has a hotel. Citizens of the world spotlights citizens across five pillars: art, business, culture, fashion, and party.
Starting with the locations where the brand is opening new hotels in 2022 – London, Miami, Chicago, Seattle and Washington DC – the content will eventually expand across all of the cities where citizenM hotels are located. 
The citizens of the world series will be rolled out across the brand's digital channels in the form of cover-story portraits, mini docufilms, podcast episodes, blog posts, and more. The series will showcase the global citizens who embody and represent their cities, connecting across borders on the five pillar topics. citizenM will introduce a new citizen on a weekly basis throughout the rest of the year.
"As a brand with a rapidly growing global footprint, we believe it is important to shine light on the locals of the cities we are in. We want to share their stories with our guests in the hopes of creating a connection to the core of each city via the creative, talented people that make up its fabric," says Robin Chadha, CMO of citizenM. 
With the help of US-based entertainment marketing agency Happy Friday, citizenM recruited the 25 local movers and shakers across the five cities, representing each of the five pillars within that city. The talented cast of citizens includes multidisciplinary artists, fashion designers, entrepreneurs, drag artists, business owners, stylists, DJs, mixologists, and more.
citizenM worked with Leila Fakouri Art & Design, the LA-based photography & design studio, to develop the creative concept and art direction for citizens of the world. Bringing all 25 citizens together to Leila's studio in LA over three days, she shot the iconic portraits that serve as the face of the series.
"The inspiration for this creative was the citizens themselves. I really loved learning about each unique person, and exploring their various contexts and environments gave me a launching point to the worlds I imagined for each of them. It was like I could close my eyes and suddenly see a stylized version of their personalities and visual perspectives pop up around them," says Leila. "What makes this project so special is to be able to connect so many different talented people from all over the country and the world in one ongoing series. This project allows me to truly think outside the box, which is rare and exciting for an artist to be able to do within a commercial setting."
citizenM's inaugural podcast episode features a discussion with Leila about how to maintain authenticity in collaborations between brands and artists, who we see as influencers, and how art and advertising can live together in co-created content. The episode also discusses the power of travel and discovering cities like a local, and how hotels can serve as a neutral baseline for connections and shared experiences.
Meanwhile, New York City-based videographer Christian Johnson filmed the city locations and behind-the-scenes content that makes up the mini docufilms for Miami, Chicago, DC and Seattle. The London citizens' content was captured by award-winning social media agency Born Social. With each mini docufilm, citizenM spotlights each city through the lens of the citizens, providing a truly local perspective on what makes up the fabric of the place. The films show each citizen taking us to their favorite spots across each city. 
In addition to the digital content, the citizens can also be enjoyed at the hotels themselves, with more programming to be added later in the year:
Seattle art citizen Tariqa Waters created an experience room at the new citizenM Seattle Pioneer Square hotel that showcased some of the whimsical larger-than-life fabrications she is well-known for
DC culture citizen Jerome Grant will be hosting a BBQ popup at citizenM Washington DC NoMa's open house event in September
Miami art citizen Douglas Hoekzema, better known as Hoxxoh, will be creating a large-scale mural for the new citizenM Miami World Center hotel due to open later this year
Chicago art citizen JC Rivera is producing selected works for the in-room art at the soon-to-open citizenM Chicago Downtown
The recently-opened citizenM London Victoria features a digital exhibition of the citizens portraits across all of the hotel elevators
Limited edition hotel key cards will be available at the new hotels, featuring portraits of the citizens
The global citizens will be curating bespoke local city guides that can be found on the citizenM app and across the brand's social channels
About the citizens of the world series, Seattle culture citizen Lex Nikol says, "citizenM brings so much culture and light to creative communities across the globe. When I found out I was going to be a part of this campaign, I thought how grateful I am to share my community with the world! This has brought me so much clarity and light to how I want to spread love in my community. I'm looking forward to growing, myself!"
"I'm honored to be chosen as the business citizen of Miami. Being able to share my story as a female Latina immigrant business owner and entrepreneur is still a pinch me moment," says Miami business citizen Cristina Arcay. "I'm so excited to share the best of Miami to the world and show why we are the melting pot of culture, music, business, art and so much more. citizenM is an extension of this and it represents all of us."
Following the recent launches of Seattle Pioneer Square (May), London Victoria (July), and Miami Brickell (July), citizenM will open a further three hotels this year - Washington DC NoMa, Chicago Downtown, and Miami World Center - bringing the total number of hotels to 30. citizenM aims to have 40 hotels open by 2024. 
For more information about citizens of the world and to access content from the full cast of citizens, visit www.citizenm.com/citizens-of-the-world. 
- ENDS -
Full cast of citizens
CHICAGO 
JC Rivera - art
Thai Dang - business 
Samantha Smyser-De Leon - culture
Diggy Moreland - fashion 
Sophia Andries - party 
LONDON
Elisabeth Ilsley - art
Marine Tanguy - business
Zoe Adjonyoh - culture
Darkwah - fashion
Glyn Fussel - party
MIAMI
Hoxxoh - art
Cristina Arcay - business
Gabriel Fernando Urrutia - culture
Emilie Sobel - fashion
Tiffany T Fantasia - party
SEATTLE
Tariqa Waters - art
Dona Sarkar - business
Lex Nikol - culture
Nick Beeba - fashion
Tony Henderson - party
WASHINGTON DC
Maggie O'Neill - art
Brian Rapp & Ashley May - business
Jerome Grant - culture
Dani Sauter - fashion
Raffi - party
About citizenM
​citizenM was launched in 2008 with a purpose–to disrupt the traditional, stale hotel industry. Rattan Chadha – the founder of the global fashion brand Mexx – was inspired by his employees to create a hotel for today's frequent travellers, giving them everything they need and nothing they don't. This means central locations in the world's most exciting cities, but at an affordable price. Not just a place to sleep, but somewhere to work, relax and play – just like home. Somewhere with superfast free Wi-Fi, tech that makes life easy, and world-class art that isn't 'hotel art'. A room with an ultra-comfortable XL bed to crash in, and a powerful rain shower to wake-up in. Rattan Chadha called this 'affordable luxury for the people'.
The first citizenM opened at Amsterdam's Schiphol Airport in 2008. In June 2022, citizenM's portfolio has 27 hotels in 17 exciting cities: London, Glasgow, Amsterdam, Rotterdam, Paris, Copenhagen, Zurich, Geneva, New York, Los Angeles, Boston, Miami, Seattle, San Francisco, Washington DC, Taipei and Kuala Lumpur.
About Happy Friday
​Happy Friday is a women-founded entertainment marketing agency that serves as a trusted solution to execute Celebrity & Influencer partnerships. With a collective 20+ years of experience and data-driven resources, Happy Friday delivers targeted and niche campaigns to reach consumers across the globe through thoughtful, curated partnerships.
About Leila Fakouri Art & Design
​Leila Fakouri is not your traditional artist. Her multimedia approach blends a unique combination of eclectic design, textural form, bold color palettes, and creative subject matter in a highly stylized visual environment.
After her studies in photography & painting at The San Francisco Art Institute, she spent years creating installation art, curating exhibitions & events, and working in set design.
She has since then opened her Los Angeles studio, Leila Fakouri Art & Design, a full service creative idea factory, where she offers photography, art direction, set design, and post production for all types of content.
Leila finds humor, beauty, & inspiration in the ridiculous and bizarre possibilities of life. ​ 
About Christian Johnson
​Christian Johnson is the founder and CEO of Baisley Productions, a production company based in Brooklyn, NY. He specializes in events, real estate, branded content, and has a passion for run-and-gun capture. He has worked with brands such as Prada, Coca Cola, TikTok, Neutrogena and E!, and has been working with citizenM on various projects since 2019. Christian is thrilled to be part of the citizens of the world project and has loved getting to experience each city from the citizens' points of view. 
Press contact: