citizenM Hotels Debuts Second Location in America's Capital City
Award-winning hotel brand expands US footprint with citizenM Washington DC NoMa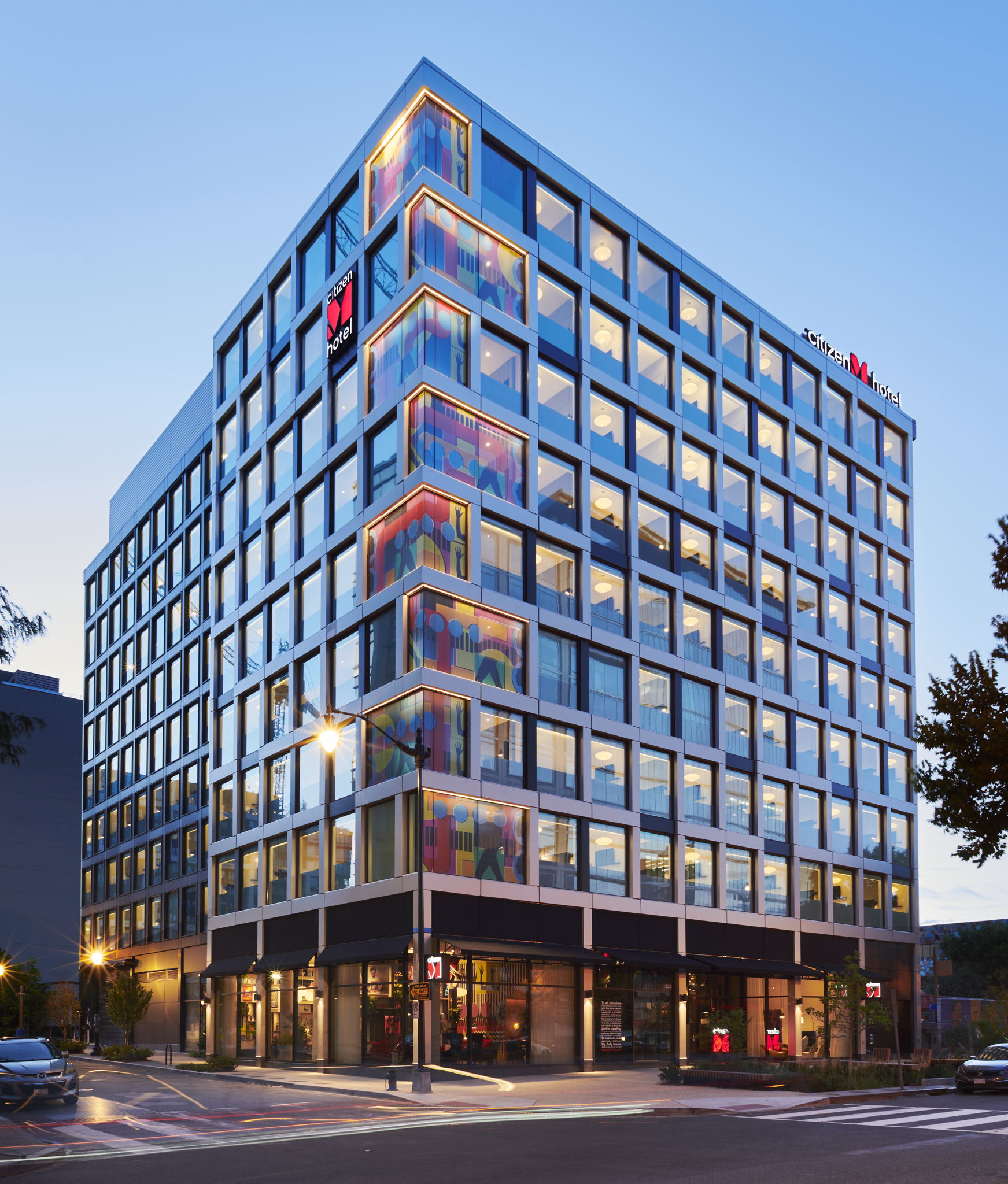 WASHINGTON DC September 13, 2022 — citizenM — the pioneer of affordable luxury hotels — announces the official opening of citizenM Washington DC NoMa, their newest property in the nation's capital. Two years after the opening of the brand's first DC hotel (Washington Capitol), the new 296 room, story hotel marks their second location in DC. citizenM is delighted to be joining this fast growing area, connecting travelers to some of the most famous landmarks in America. 
With Washington DC being one of the most culturally diverse cities in the U.S., it was important for citizenM to amplify equality, freedom, optimism, and inclusion throughout the atmosphere and design of the hotel. The United Colors of Washington quickly became the inspiration behind this property. 
citizenM's art team commissioned DC native, Hannah Whitaker, to create Circulations, a conversation-sparking art installation wrapping around the facade of the hotel. The mural features a female naturalistic presence that seems at odds with the pictures' stark techno-futurism. She achieves spectacular effects by carefully staging each shot of the same female subject in silhouette. She cites the imperfections in her work and evidence of its handmade construction, as highlighting "the generative potential of human error in the face of digital automation." 
The interior of the hotel highlights Vibrations, Whitaker's second piece for citizenM, is a continuation of the facade artwork featuring dark stripes and flares of color. Within its rooms, citizenM Washington DC NoMa showcases works by notable and rising local artists such as Andy Yonder, Charles Jean Pierre, Melvin Nesbitt, Nekisha Durrett and Tim Doud, filling the space with bespoke and eye-catching contemporary art.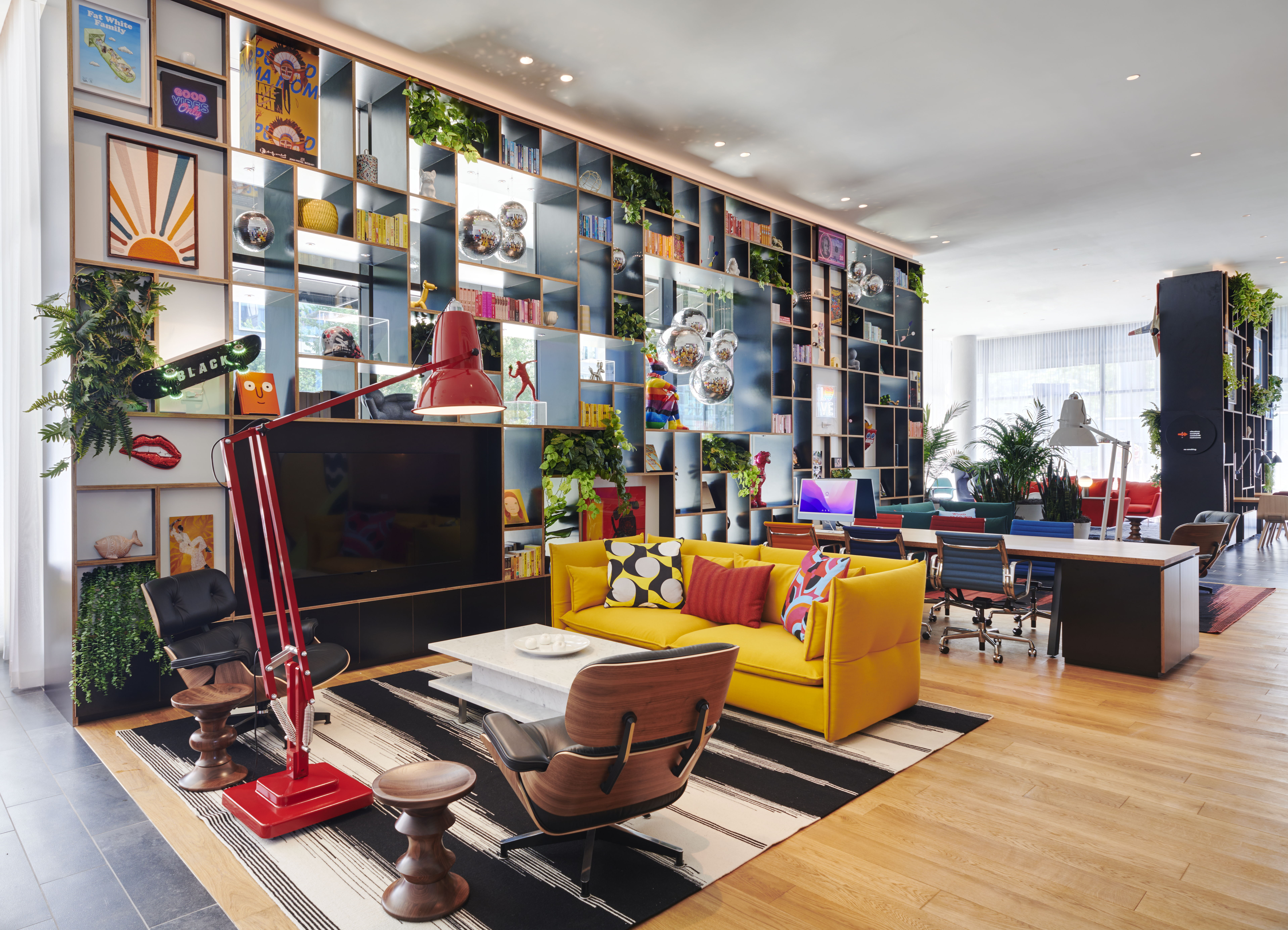 "We're thrilled to be part of NoMa's growth with the addition of citizenM Washington DC NoMa," says Robin Chadha, Chief Marketing Officer. "With a curated selection of artwork by local Washington-based artists and our proximity to the best the city has to offer in terms of galleries, museums, boutiques, restaurants and bars, etc., we're excited to be able to provide guests and visitors alike with an unparalleled and culturally robust experience both in and out of the hotel."
Visitors can expect the same unfailing dedication to design, art, technology, and comfort, seen throughout all of citizenM's properties. Each property was designed by long standing architecture partner Concrete, offering a streamlined, luxury experience — including high-tech amenities, friendly and genuine service, comfortable guest rooms, and spacious and inviting living areas filled with contemporary art and iconic furnishings such as Vitra, citizenM's furniture partner. citizenM Washington DC NoMa features three societyM meeting rooms, available for half and full day hires to both guests and the public, offering style, tech, and unlimited coffee to let ideas flow. 
citizenM's philosophy of "affordable luxury" is best experienced in the guest rooms. The rooms are smartly furnished with "everything modern travelers need, and nothing they don't." All guest room features are designed to be the very best: the beds are XL king- size wall-to-wall with an extra comfy mattress and luxury bedding. An LED/LCD widescreen TV offers streaming options via free super-fast Wi-Fi, so that guests can enjoy their own content. A powerful rain shower with full-size shower gel and shampoo (as well as giant fluffy towels) will soothe all long- and short-haul travelers. The room ambiance is fully controlled by an iPad – the blinds, the TV, even the lights with changeable colors – or via the award-winning citizenM app.
NoMa is quickly rising as one of the most popular neighborhoods in Washington DC. It is all about modern convenience and connection — 25 minutes from Reagan Airport, adjacent to the Metro (Red Line), bustling nightlife, and only two miles east of The White House. Guests can walk among the locals and take in the city's most famous locations: Union Market, Union Station, the National Postal Museum, and one-of-a-kind shops. 
In July 2022, citizenM launched citizens of the world — a global content series to celebrate the creative and diverse communities in each of the cities where citizenM is present. Spotlighting citizens across five pillars: art, business, culture, fashion, and party, the series will showcase the global citizens who embody and represent their cities and connect across borders.
In celebration of the opening, citizenM welcomes all to step into a dream to meet their second hotel in the capital. An immersive art experience reveals moments of wonder throughout the interiors of the hotel adorned with fantastic art by DC natives, starting with a media preview on September 15. The event will be joined by the citizens of Washington DC from the citizens of the world content series: Jerome Grant with culinary delights, Maggie O'Neill with an art experience room, Dani Sauter with a fashion experience room, Raffi with podcast entertainment, and Brian & Ashley with a special cold brew cocktail. Opening to the public from 5pm to 9pm on Friday, September 16 through Sunday, September 18, all are welcome to visit the new hotel, indulge in Jerome's food station, and mingle while enjoying the sounds of a local DJ.
With citizenM Washington DC NoMa, the brand is continuing ​ its ambitious rollout, aiming to reach 40 operational properties globally by 2024. The brand has additional properties under development in Miami, Chicago and Austin, and will have 30 hotels open by the end of the year. 
In March 2022, citizenM launched the world's simplest hotel membership program: mycitizenM+, where members can enjoy 'all the perks without the points'. citizenM guarantees a room for members - with an extra 10% discount off the lowest public rate - even during busy periods (made at least 48 hours in advance). Additional perks include: free late check-out and a free upgrade to a premium view room (both are subject to availability), a 'first in queue' chat service, early access to discounts, and members-only events. The membership is billed monthly and renewed yearly at a fixed low rate (only ​ $12 / €10 / £9 a month). Every citizenM hotel is included, and there are no blackout dates. For more information visit www.citizenm.com/my-citizenm-plus.
citizenM's mobile app allows guests to control virtually their entire experience using their smartphones, reducing even further any physical contact with our "ambassadors", or hotel staff. Guests can use their phone to check-in, open their room, order food and beverages, control the in-room experience, and then check-out when they've finished their stay. We've also created an opt-in cleaning service, so unless guests choose to have their room cleaned, no one will enter it throughout the duration of their stay. We've strategically placed disinfectant stations for employees and guests, as well as clearly marked social distancing signs and safety routes.
About citizenM
citizenM was launched in 2008 with a purpose–to disrupt the traditional, stale hotel industry. Rattan Chadha – the founder of the global fashion brand Mexx – was inspired by his employees to create a hotel for today's frequent travelers, giving them everything they need and nothing they don't. This means central locations in the world's most exciting cities, but at an affordable price. Not just a place to sleep, but somewhere to work, relax and play – just like home. Somewhere with superfast free Wi-Fi, tech that makes life easy, and world-class art that isn't 'hotel art'. A room with an ultra-comfortable XL bed to crash in, and a powerful rain shower to wake-up in. Rattan Chadha called this 'affordable luxury for the people'.
The first citizenM opened at Amsterdam's Schiphol Airport in 2008. As of September 2022, citizenM's portfolio has 28 hotels in 17 exciting cities: London, Glasgow, Amsterdam, Rotterdam, Paris, Copenhagen, Zurich, Geneva, New York, Los Angeles, Miami, Boston, Seattle, San Francisco, Washington DC, Taipei and Kuala Lumpur.
citizenM positioning
citizenM places in an 'upscale hotel' category (based on measurable factors like the STR Global Chain Scale positioning matrix, which ranks hotels based on price vs review scores) – thanks to an unfailing dedication to design, art, technology and comfort. citizenM stands out among all other hotels by simply creating a category of its own – as an affordable luxury hotel. 
Website: http://citizenM.com | @citizenM
Press contact: [email protected]
citizenM Washington DC NoMa Fact Sheet 
Address: 1222 1st Street NE, Washington, DC 2002 ​
Rooms: 296
Floors: ​ 10
Square Feet: 120823 sq ft
Project Team
Concrete (designer)
Gensler (executive architect)
Gilbane (general contractor) 
Room Features & Amenities 
Wall-to-wall window
XL king-size bed
Powerful rain shower
Bespoke Amenities
Luxury bedding and towels
iPad room controls for lights, temperature, TV, blinds 
HDTV with streaming capabilities
Hotel Highlights
One-minute self check-in and check-out
collectionM – Retail space with an unconventional assortment of travel essentials, souvenirs, gifts and books, curated for the modern traveler
canteenM – An open-plan dining area with 24/7 grab-and-go food and drinks
First Floor ​ — societyM Rooms & The Living Room
3 meeting rooms with break out space 
A living room with books, art, designer furniture, and designated working areas
Bar
Pantry