citizenM is named Sector Leader and receives 5 Star GRESB rating for second consecutive year
The award-winning brand is recognized for having demonstrated outstanding leadership in sustainability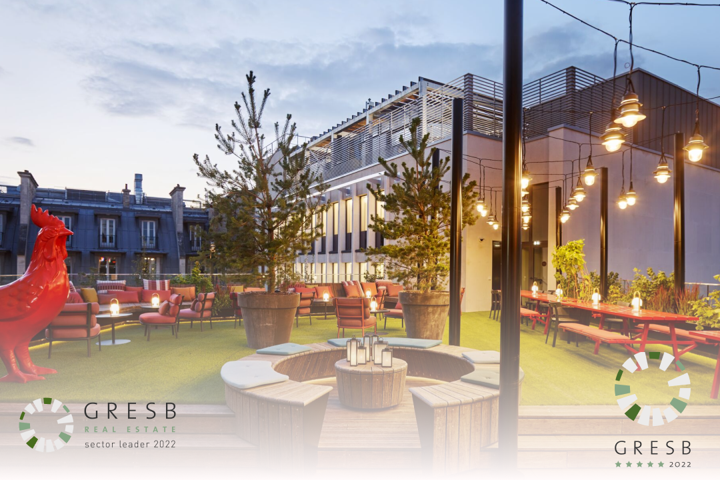 Amsterdam, 18 October 2022 – Award-winning hotel and lifestyle brand citizenM has been named among sustainability Sector Leaders for real estate development by GRESB, as well as achieving for the second consecutive year the highest rating available for standing investments - 5 stars - attained by only 20% of entrants. GRESB has recognized citizenM for its sustainability leadership, demonstrating the brand's continued commitment to ESG transparency and improved performance.
Each year, GRESB assesses and benchmarks the ESG performance of assets worldwide, providing clarity and insights to financial markets on complex sustainability topics. 
​​​The GRESB Sector Leader Awards recognizes real estate and infrastructure companies, funds and assets that have demonstrated outstanding leadership in sustainability each year. citizenM participated in the Real Estate Assessment, obtaining Global Non-listed Sector Leader - Hotel.
"GRESB Sector Leaders are the top-performing organizations leading the way to a net-zero future and pulling the industry forward. We applaud this year's Sector Leaders for their commitment, leadership and dedication to ESG and sustainability," said Sebastien Roussotte, CEO of GRESB. 
This is the fifth year citizenM has taken part in the GRESB assessment, and the second consecutive year it has achieved the 5-star rating for standing investments. Each year, GRESB assesses and benchmarks the ESG performance of assets worldwide, providing clarity and insights to financial markets on complex sustainability topics. 
The GRESB Assessments are guided by what investors and the industry consider to be material issues in the sustainability performance of asset investments and are aligned with international reporting frameworks, goals and emerging regulations. The GRESB ESG Benchmark grew this year to cover more than USD 8.6 trillion of assets under management, up from USD 6.4 trillion the year before. 
GRESB data is used by hundreds of capital providers and thousands of asset managers to benchmark investments across portfolios and to better understand the opportunities, risks and choices that need to be made as the industry transitions to a more sustainable future. 
​The sector leader recognition and 5-star award demonstrates citizenM's ongoing commitment to its wider Environmental, Social, and Governance (ESG) strategy: to be a proudly conscious, sustainable hotel brand. Since the first hotel opened in 2008, citizenM has been on a mission to bring affordable luxury, green buildings and a conscious approach to travel in the world's most exciting cities – and will continue pushing forward to become a leader in the field. citizenM is all about the latest tech, bringing world travellers everything they need, and nothing they don't. This ethos feeds into the brand's approach to sustainability; reducing waste, developing green buildings and setting the standard for hotels across the globe.
​Taking part in the GRESB assessment means citizenM can align with ESG standards and grow as a positive, sustainable brand whilst benchmarking itself against leaders in the real estate industry. ​ ​​​
​Klaas van Lookeren Campagne, Chief Executive Officer at citizenM says: "2021 was a year of ESG acceleration, decision-making and achievements at citizenM. We are focused on engaging with conscious travellers and setting big goals for the future​. We invested in data, and asked third-party auditors to review, challenge and assure our energy, emissions and water performance. We are proud to be recognised with these results - a true testament to our ongoing dedication to putting ESG at the heart of our business strategy." ​ 
​"ESG reporting is now more important than ever before. In order to achieve the Paris Agreement goals and move closer to a net-zero future, transparency and accountability are key. Through GRESB participation, organizations are making a significant contribution to creating a more sustainable future for all," says Sebastien Roussotte, CEO of GRESB.
To read more about citizenM's ESG efforts and to see the brand's full 2021 ESG report, visit www.citizenm.com/esg
_______________________________________________________
About citizenM
citizenM was launched in 2008 with a purpose – to disrupt the traditional, stale hotel industry. Rattan Chadha – the founder of the global fashion brand Mexx – was inspired by his employees to create a hotel for today's frequent travelers, giving them everything they need and nothing they don't. This means central locations in the world's most exciting cities, but at an affordable price. Not just a place to sleep, but somewhere to work, relax and play – just like home. Somewhere with superfast free Wi-Fi, tech that makes life easy, and world-class art that isn't 'hotel art'. A room with an ultra-comfortable XL bed to crash in, and a powerful rain shower to wake-up in. Rattan Chadha called this 'affordable luxury for the people'.
The first citizenM opened at Amsterdam's Schiphol Airport in 2008. In October 2022, citizenM's portfolio includes 29 hotels in 18 exciting cities: London, Glasgow, Amsterdam, Rotterdam, Paris, Copenhagen, Zurich, Geneva, New York, Los Angeles, Miami, Boston, Chicago, Seattle, San Francisco, Washington DC, Taipei and Kuala Lumpur.
About GRESB
GRESB is a mission-driven and industry-led organization providing standardized and validated Environmental, Social, and Governance (ESG) data to financial markets. Established in 2009, GRESB has become the leading ESG benchmark for real estate and infrastructure investments across the world, used by more than 170 institutional and financial investors to inform decision-making.
For more information, visit GRESB.com.
Elisa Revak
Account Executive, Camron