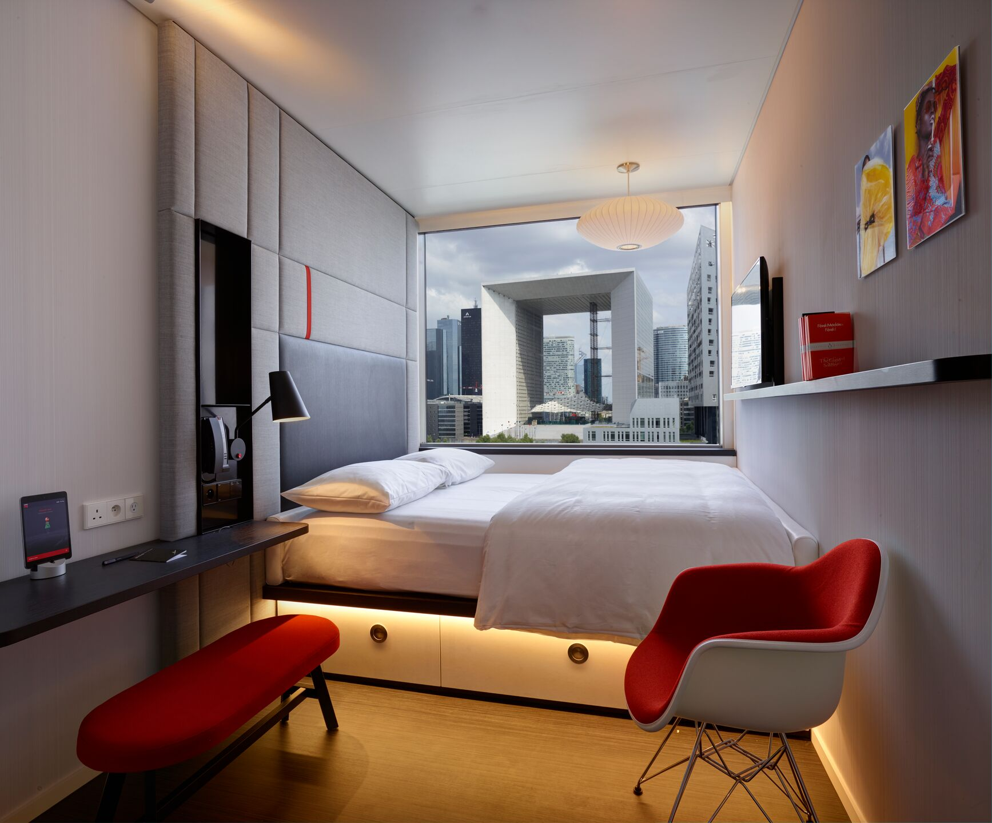 citizenM hotel holds an open art call for artists connected to Miami
Ten selected artists to each receive prize of $4000 plus hotel stay
4 October 2021: The Dutch lifestyle and hotel brand citizenM is holding an open art call for artists connected to Miami – whether they work there, live there, or just love the culture of the city. 
Artists of all calibres may digitally enter two pieces that showcase their connection to Miami. Entries don't have to be specially created for citizenM, but they do need to embody the brand's personality: lively, colorful and playful. The website for entries:
www.citizenm.com/miami-open-call
The deadline for applications is Sunday, October 24th. A panel of judges will choose ten winners to permanently showcase their pieces across the guest rooms of the new citizenM Miami Brickell and World Center hotels. Thousands of citizenM guests will come face-to-face with the winners' work – the exposure will be immense. 
On the judging panel is Rattan Chadha, founder of citizenM and contemporary art collector; Jen Stark, artist and creator of the hotel's facade artwork; Rob Wagemans, Creative Director at citizenM, founder of Concrete; Lakwena Maciver, artist and creator of the hotel's interior artwork; and FriendsWithYou, an art collaboration of Samuel Borkson and Arturo Sandoval III. Winners will be announced the week of October 25th. The prize is $4000 ($2000 per art piece) and a free stay at one of the citizenM Miami hotels. 
Rattan Chadha says, "This is the first of many upcoming collaborations with local artists to support Miami's creative community. citizenM's passion for sponsoring new talent has been a part of hotel openings since day one. To us, a blank wall is a wasted opportunity." 
Every citizenM hotel is designed for art lovers, by art lovers – and has been since its inception in 2008. Instead of tired, traditional interior design, citizenM chooses bright colors, illustration-covered ceilings and oversized art installations on hotel facades. This conversation-sparking art is part of the guest experience.
Overall, there are nearly 400 artworks (more than 100 of these are special commissions) displayed across all citizenM hotels globally. Many of these are from each city's local artists, while others are originals by the art world's best-known names, such as Andy Warhol, Julian Opie, Gavin Turk, Jen Stark, Friedrich Kunath, Katherine Bernhardt and Lakwena Maciver. These artworks make world-class culture and creativity accessible to all who stay at citizenM. 
Thanks to a shared love of art, citizenM is an ideal fit for Miami. It's why the brand is opening two hotels almost simultaneously. First, citizenM Miami Brickell. Set to open this winter, the hotel is in the heart of Downtown Miami and topped with the very first rooftop pool and bar. In the city's business district, citizenM Miami World Center will open at the start of 2022. Outside: it appears the sleek, professional of the two hotels. Inside: it's a fun all-are-welcome hotel like its sister. 
These hotels are part of citizenM's ambitious rollout across the United States, with six hotels already open (in New York, Boston, Seattle, Washington DC and Los Angeles) and four more coming soon (in Miami, San Francisco and Washington DC). 
About citizenM
The citizenM philosophy is 'affordable luxury for the people', offering guests all the luxuries they would expect from a high-end hotel in a prime location, but without sky-high prices. citizenM was founded by Rattan Chadha, the founder and former CEO of the fashion brand Mexx. The first citizenM hotel opened at Amsterdam's Schiphol Airport in 2008. The brand now operates 23 hotels in some of the world's most exciting cities including London, Paris, New York, Amsterdam, Copenhagen and Taipei.
citizenM intends to keep growing as a fully integrated owner-operator in selected gateway cities around the world. Its unique value proposition, delivering a high profitability per square meter, allows the brand to develop hotels on prime sites in cities with the highest barriers to entry. citizenM can acquire development sites and turnkey delivered hotels and is open to joint ventures on individual projects. citizenM considers new-build developments, office conversions, components of mixed-use schemes or conversions of existing hotels. The company will also selectively consider asset-light transactions. 
In addition to citizenM's established pipeline in the US's largest cities, the company is eyeing further afield, and will consider venturing into new markets such as Toronto, Austin, Silicon Valley and Denver.
Our positioning
citizenM places in an 'upscale hotel' category (based on measurable factors like the STR Global Chain Scale positioning matrix, which ranks hotels based on price vs review scores) – thanks to an unfailing dedication to design, art, technology and comfort. citizenM stands out among all other hotels by simply creating a category of its own – as an affordable luxury hotel. 
Hotels factsheet
citizenM Miami Brickell hotel
955 S Miami Ave
Miami FL 33130 
USA
citizenM Miami World Center hotel
700 NE 2nd Ave
Miami FL 33132
USA